Air Canada has raised additional cash to help keep itself afloat as the coronavirus pandemic drags on.
The Montreal-based carrier says on 22 June that it recently raised C$1.23 billion ($909 million), bringing to C$5.5 billion the total additional funds the airline has raised since the beginning of the crisis earlier this year.
The additional financing comes in the form of secured notes worth C$840 million, due in 2024 and backed by real estate interests, ground service equipment, certain airport slots and gate leaseholds. The remaining C$315 million comes in the form of enhanced equipment trust certificates (EETCs). An EETC is a financial instrument often used by airlines to finance aircraft.
Air Canada says it now expects to end the second quarter of 2020 with about $9 billion in liquidity.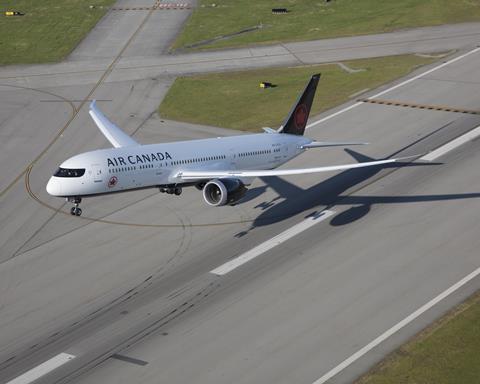 "The fact Air Canada was able to add $1.23 billion to its liquidity with these last two transactions without utilising any of its previously disclosed unencumbered assets leaves the airline in an excellent position to access additional funds should the need arise," says Pierre Houle, managing director and treasurer at Air Canada. "We have full confidence that we will be successful in maintaining liquidity at levels more than sufficient to meet the challenges and take advantage of the opportunities ahead."
The airline says it still has unencumbered assets of about $2.5 billion and will "continue to explore financing arrangements" if additional cash is required, and until passenger demand rebounds in a significant way.
Air Canada reported a C$1.05 billion loss in the first quarter of 2020, versus a C$345 million profit during the same quarter in 2019. In May it warned that "at least three years" may pass before revenue and capacity levels return to those seen just last year.
Similar to its peers, Air Canada had reduced capacity by between 85-90% in the second quarter, and expects third quarter capacity to be down 75% compared to the same period a year ago.
As a result of the coronavirus-induced decline in demand and the urgent need to reduce costs, the carrier has streamlined its fleet and accelerated retirement of 79 aircraft, including Airbus A319s, Boeing 767s and Embraer 190s. Air Canada also cancelled 11 orders for the beleaguered 737 Max. The aircraft type has now been grounded for more than 15 months following two crashes that killed 346 people.
Air Canada also cut some 20,000 staffers – about 60% of its pre-pandemic workforce - to reduce costs further, and set itself up for an extended period in which it expects to be flying less. In addition, it says it has launched a C$1.1 billion cost transformation programme to assist in achieving savings goals.
At the end of May the airline said it would be launching an "abridged" summer travel schedule and will be connecting 97 destinations, down from 220 last year.