Air France-KLM has entered into exclusive talks with private equity firm Apollo Global Management over a €500 million ($527 million) capital injection to an Air France operating affiliate as part of further steps to repay state funds secured during the pandemic.
The carrier group says it relates to an affiliate owning of a pool of spare engines for Air France dedicated to its engineering and maintenance activity.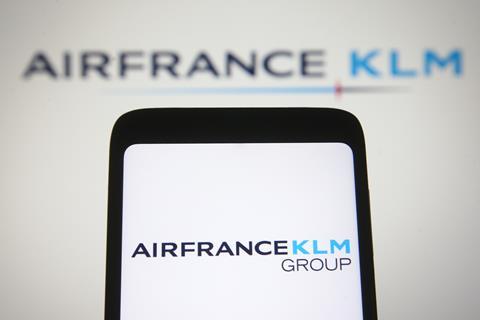 "The proceeds of the transaction would enable Air France-KLM and Air France to partially redeem the French State perpetual bonds… as well as facilitate the financing of future spare engine acquisitions under Air France's fleet renewal programme," Air France-KLM says.
It adds: "The capital injected would be accounted for as equity under IFRS [accounting standards], hence strengthening Air France-KLM's and Air France's balance sheet."
The group had earlier this month, in disclosing its first quarter results, flagged that progress was being made on refinancing up to €500 million of Air France assets, mainly through quasi-equity instruments to redeem French state aid. Citing the strong performance of KLM, it said it has already partly paid back some of the Dutch state-backed financial support secured during the crisis.
Air France-KLM has also secured a new investor in the shape of French logistics operator CMA CGM, which plans to take up to a 9% stake in the airline as part of a new long-term air cargo partnership. That could be part of an up to €4 billion capital increase being considered by Air France-KLM, again aimed at further restoring equity and accelerating the paying back of state aid.