Air France will shed almost 7,600 jobs over the next three years in an accelerated restructuring implemented in parallel with €7 billion ($7.9 billion) worth of government-backed loans. The airline does not expect a full recovery in demand until 2024.
The French flag carrier says its activity and revenue has fallen by 95% over the last three months in the wake of European-wide travel restrictions introduced to counter the coronavirus pandemic.
"At the height of the crisis, the airline was losing €15 million per day," says Air France. "Recovery looks set to be very slow due to the uncertainties regarding the health situation, the lifting of travel restrictions and changing commercial demand. In this way, even on the basis of ambitious recovery assumptions, Air France predicts that it will not see the same level of activity as in 2019 before 2024."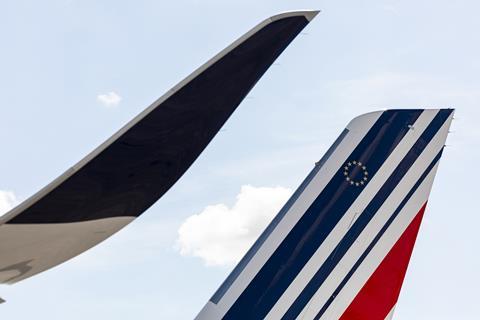 Air France says French state support, in the form of guaranteed loans amounting to €7 billion, "will enable the group to withstand the crisis in the short term and is accompanied by strong commitments to ensure its sustainability. Air France must accelerate its transformation to regain its competitiveness and strengthen its leading position in terms of sustainable transition."
The mainline airline forecasts it will need to eliminate 6,560 jobs by the end of 2022 from its existing level of 41,000 staff. "The many natural departures expected over this period (more than 3,500) will make it possible to compensate more than half of these job reductions thanks to a favourable age pyramid," says the airline.
Air France's Hop subsidiary will be resized and restructured as part of a simplification of its fleet, which will see staffing almost halved over the next three years from 2,420 currently, with 1,020 jobs to go.
"Taking into account the estimated number of natural departures, the overstaffing figure remains at around 820 at the end of 2022," says Air France.
The two airlines are working with the unions around plans that give priority to voluntary redundancies, early retirements and professional and geographical mobility. This restructuring plan will be presented at the end of July, together with the plan for the wider Air France-KLM Group.
According to Cirium fleets data, Air France currently has just over half of its 228 aircraft in service. A large part of Hop's fleet remains grounded, with just 28 of 74 aircraft currently flying. The active fleet comprises 13 Bombardier CRJs and 15 Embraer E-Jets.