Italian operator Air Italy, part-owned by Qatar Airways, is to cease operations, with services being taken over by other operators effective immediately.
Air Italy's shareholders have opted to place the carrier in liquidation following an 11 February meeting.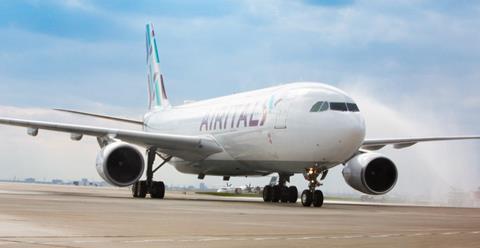 It states that, from 11-25 February, its services will be operated by other carriers without any changes to the schedule.
But passengers booked on flights after this period will be offered refunds or a change of travel arrangement.
Air Italy's collapse comes two and a half years after Qatar Airways took a minority 49% shareholding in the airline.
Qatar Airways insists it had been ready to continue supporting the carrier.
"[We were] ready once again to play [our] part in supporting the growth of the airline, but this would only have been possible with the commitment of all shareholders," it says.
Qatar Airways states that it has "provided all possible support" to Air Italy and its business plan – including providing aircraft and ordering additional ones – and says it has "strongly believed" in the airline and its potential.
The Middle Eastern operator adds that it has backed management decisions and provided capital injections when required.
"Even with the changing competitive environment and the increasingly difficult market conditions severely impacting the air transport industry, Qatar Airways has continually reaffirmed its commitment…to continue investing in the company," it adds.
Air Italy's major shareholder is the firm Alisarda which has 51% of the company. The carrier primarily operates a mix of Airbus A330s and Boeing 737s, and had been using 737 Max jets before the type was grounded last year.