AirAsia X is looking to delay lease rental payments to tide itself over during the coronavirus crisis, sources tell Cirium.
An executive at one of the carrier's lessors tells Cirium that it is unlikely the company will allow AirAsia X to skip lease payments entirely but may be open to letting it postpone payments.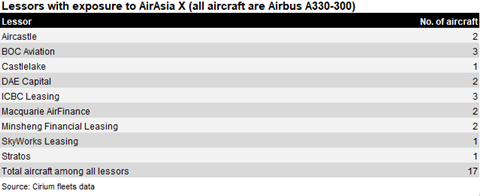 Another executive at a different lessor with exposure to the airline says this is not the first time that AirAsia X has asked for lease rental payment deferrals.
The source says that his lessor values long-term relationships with its airline customers and will therefore be open to discussing deferrals with customers experiencing cash flow issues. However, he says "we are not a soft touch", adding that, for example, a three-month rental holiday would not be acceptable.
Cirium fleets data shows that AirAsia X has 17 Airbus A330-300s on lease, from Aircastle, BOC Aviation, Castlelake, DAE Capital, ICBC Leasing, Macquarie AirFinance, Minsheng Financial Leasing, Skyworks Leasing and Stratos.
The carrier declines to comment on whether it has asked lessors to defer lease rental payments but tells Cirium: "China is an integral part of our network representing over 30% of AAX capacity.
"Currently nine of the 12 routes we operate into mainland China are cancelled/suspended through to the end of March as a result of the Covid-19 virus outbreak. We continue to monitor the situation closely in conjunction with world health authorities and local governments."
Cirium schedules data shows that the carrier planned 284 flights to China this month, down from 400 flights in February 2019.