Alaska Air Group has slashed 300 management jobs and bolstered its available cash in recent weeks in an effort to weather a crisis that left the company $214 million in the red during the second quarter.
Various measures helped the company stem its cash outflow by some 70% in recent months.
In June, Alaska burned about $4 million daily, down from about $13 million daily in March, says the Seattle-based company, which reported second quarter earnings on 23 July.
Alaska's group operating revenue slid 82% year-on-year to $421 million in the second quarter, while operating expenses dipped 63% to $709 million, equating to a $288 million operating loss for the period.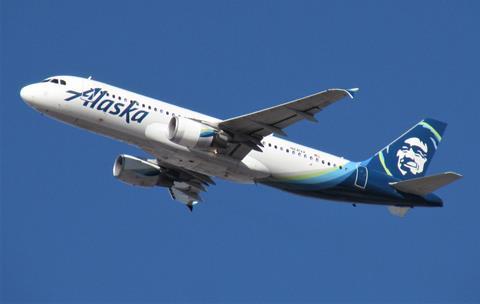 Interest and tax adjustments left the company with a $214 million second quarter loss, a stark reversal from Alaska's $262 million profit in the same period of 2019.
Alaska lost $232 million in the first quarter of 2020.
Excluding government aid, fuel-hedge adjustments and other special items, Alaska would have posted a $439 million loss, it says.
"Airlines are currently navigating the biggest demand contraction in the history of aviation," says the company's chief executive Brad Tilden.
Alaska Air Group, which owns Alaska Airlines and regional carrier Horizon Air, had $3.8 billion in cash and marketable securities as of 22 July.
That figure includes $1.2 billion in financing received through issuance of trust certificates backed by 61 jets, including 42 Boeing aircraft and 19 Embraer aircraft, Alaska says.
During the second quarter, the company also bolstered its balance sheet with $992 million in government aid earmarked to support the company's employees, and with $164 million in financing backed by seven aircraft.
Alaska also signed an agreement with the US government to received $1.1 billion in loans via the government's coronavirus relief package.
Alaska's cost-cutting measures included elimination in July of 300 management jobs. It also "initiated early-out programmes for frontline workers and offered incentive leaves to pilots".
During the quarter, Alaska returned to service 43 737s, all aircraft operated by Horizon, and all jets operated by another partner, SkyWest Airlines, on behalf of Alaska.
Alaska had 89 737s temporarily parked as of 22 July. The company has 137 of those mainline Boeing twinjets in service, according to Cirium fleets data. It also has 30 of its 71-strong Airbus single-aisle fleet flying.
Alaska notes that on 23 July it received an "official" invitation to join the Oneworld airline alliance. It hopes to finalise that membership before year-end.
Also during the quarter, Alaska received certification from the Federal Aviation Administration to transport cargo in the cabins of five 737-900s, it says.