Alaska Air Group made a "significant stride forward" to recovery in the third quarter of 2021, despite the coronavirus Delta variant hitting the company's revenue in last months of the year.
The Seattle-based company, parent to Alaska Airlines and Horizon Air, says on 21 October that it recorded a $194 million profit during the three-month period, compared to a loss of $431 million in the same quarter in 2020.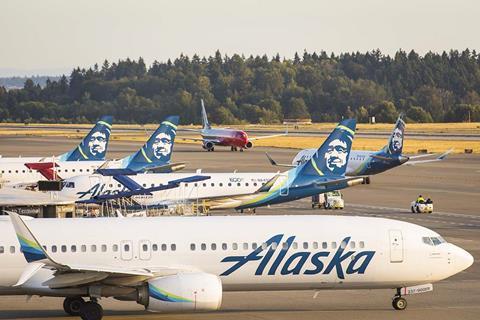 Alaska generated revenue of $2 billion during the quarter that ended on 30 September, up from $701 million during the same quarter of coronavirus-plagued 2020. By comparison, Alaska's third-quarter 2019 revenue came in at $2.4 billion.
"We are thrilled to return to profitability this quarter," says chief executive Ben Minicucci. "We're all feeling the momentum and look forward to building on our strong foundation for growth in 2022 and beyond."
Load factor during the third quarter rose to 80%, despite the Delta variant's dampening impact, Minicucci adds. The airline carried 7.1 million passengers in the third quarter of 2021, compared to 2.2 million in the same three months last year.
Alaska's operating expenses in the third quarter were $1.7 billion, up 33% from $1.3 billion in the same three-month period last year.
Chief commercial officer Andrew Harrison says the worst of the Delta variant's impact seems behind the industry. Still, the Delta surge had "an unfavourable impact" on the company's bottom line during the third quarter and could account for $200 million in lost revenue during the fourth, Harrison says.
Executives say demand has prompted Alaska to add more routes to secondary cities – place like Boise, Idaho.
"Secondary cities are very, very important to us, and we will continue to grow those over time," Harrison says.
Though corporate travel is returning slower than leisure, Alaska has seen "increased steady forward momentum in business travel", he adds.
And as the recovery progresses, the airline is working to ensure its premium products are more accessible to all travellers, with "competitive prices" for upgrades, Minicucci says. "As business travel returns, we are going make sure we have a robust opportunity for our guests to upgrade into the first-class cabin."
Alaska expects its fourth-quarter revenue will be 16-19% less than the same period of 2019.
During the third quarter, Alaska ordered 12 Boeing 737 Max 9s, which are scheduled to be delivered in 2023 and 2024, and acquired options to purchase another 25 Max 9s. Alaska now holds orders for 93 of the jets, plus options for 52.
"This positions us for significant growth when demand comes back, which we expect will be in the back half of 2022," CEO Minicucci says.