Allegiant Air and Mexico's Viva Aerobus have applied to the US Department of Transportation (DOT) for approval of a commercial alliance that would expand low-cost flying between the USA and Mexico, and give the Las Vegas-based carrier an equity stake in the Mexican carrier.
The Las Vegas-based ultra-low-cost carrier (ULCC) says on 1 December that the tie-up is the first between two ULCCs, and not involving a network carrier.
The agreement "will bring significant new competition and service options to the US-Mexico market, including lower fares, additional capacity on existing routes, and increased overall transborder capacity by adding new nonstop flights on routes now served only via connecting service", the airlines write in their application.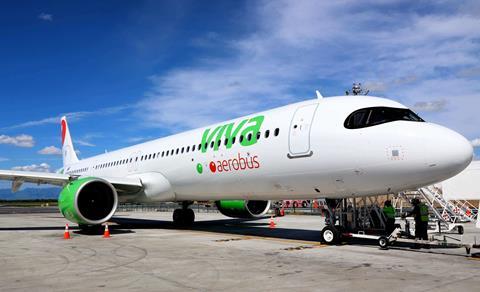 As part of the deal, Allegiant, which currently does not serve Mexico, will also make a $50 million investment in Monterrey-headquartered Viva Aerobus, and chief executive officer Maury Gallagher will join the Viva Aerobus board of directors.
"Allegiant and Viva Aerobus operating together will be a tremendous win for consumers seeking affordable, non-stop travel between the US and Mexico, and will create rippling economic benefits for hospitality sector business across both nations," says Gallagher. "This groundbreaking alliance should reduce fares, stimulate traffic, and ultimately link many new transborder cities with non-stop service."
The transaction needs approval in both jurisdictions and the airlines say they are targeting the alliance to go into effect in the first quarter of 2023. They are requesting approval before the end of July 2022 so that "sales and marketing can begin with adequate lead time".
"The US-Mexico market is currently the largest international air travel market in the world; during the pandemic it has outperformed any other market due to a strong leisure…recovery where both Viva Aerobus and Allegiant have excelled," says Viva Aerobus chief executive officer Juan Carlos Zuazua.
The carriers say that the alliance has the potential of adding 250 new routes, including, for Allegiant, access to popular Mexican beach destinations like Cancun and Puerto Vallarta, and for Viva Aerobus "underserved or untapped-to-Mexico" markets, such as Las Vegas and Florida.
"Under the alliance, Allegiant will have access to a prominent and well-established point-of-sale distribution system in Mexico, as will Viva in the United States," the companies write in their application. "Allegiant will have a partner with deep experience operating and marketing in Mexico that also possesses operating rights at congested airports and relationships with the key contacts, airports, service providers and regulators in Mexico. Conversely, Viva will have a partner with deep experience operating and marketing in the US and a similar cluster of relationships."
The airlines will coordinate "across all areas of airline operations", which includes code-sharing, scheduling, marketing, IT systems and loyalty programmes.
But any integration and collaboration, even if and when approved by the DOT, will have to wait until the Federal Aviation Administration re-assesses aviation safety standards in the Latin American nation, after downgrading the country earlier this year.
The US aviation regulator said on 25 May that during a regular safety assessment between October 2020 and February 2021, it had determined that the country no longer fully met ICAO safety standards, and shifted Mexico to the so-called "Category 2" list.
The "Category 2" designation means that the FAA is unsatisfied with a country's laws or regulations, or that the country's civil aviation authority has a poor record in areas such as technical expertise, trained personnel, record keeping, inspection procedures or resolution of safety concerns.
And that means, while current air service between the US and Mexico may continue, Mexican carriers cannot introduce new routes, and US airlines are not permitted to market and sell tickets on codeshares. At the time, the FAA said it would "increase its scrutiny" of Mexican airlines' flights to the USA.