The parent company of Allegiant Air burned a daily average of $1.3 million in cash during the third quarter, including debt payments, rising from its daily cash burn average of $900,000 during the second quarter.
The Las Vegas-based company previously forecast that its cash burn during the third quarter would be its highest going forward and aimed to reduce labour expenses and other costs to reach cash burn neutral by 2021.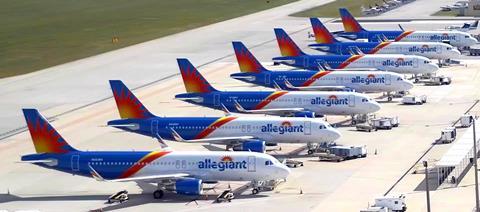 Daily cash burn during the fourth quarter is expected to be "well below $1 million", Allegiant executive vice president and chief financial officer Gregory Anderson said on 8 October. The carrier ended the third quarter with "over $850 million" in liquidity, he says.
"During the third quarter, we paid approximately $15 million to Sixth Street Partners in conjunction with the termination of the Sunseeker loan agreement, which drove cash burn up slightly," Anderson says, referring to the halted construction of its Sunseeker Resort in Florida.
An additional $5 million will be paid to Sixth Street during the fourth quarter to complete the termination of the loan, he says.
The total load factor during the third quarter was 50%, down from 86% during that quarter in 2019.
Gross bookings for the third quarter averaged more than $2 million per day, better than Allegiant expected due to steady demand increase during September. Load factors increased from 44% during August to 57% during September.
Average daily gross bookings during the fourth quarter are expected to exceed $2 million, says Allegiant's vice president of revenue Drew Wells.
"We completed the [third] quarter with capacity down 6.5% year over year," Wells says. "We continue to monitor bookings and will make any necessary cuts to the schedule as dictated by demand trends."
Allegiant aims to attract passengers with low fares on routes to sun destinations during the winter months. The carrier starting in November is scheduled to add seven new routes to its seasonal network, including three to Florida and two to Palm Springs, California.
The carrier decided not to seek federal loans for non-payroll purposes through the CARES Act. With the expiration of the payroll support programme on 1 October, Allegiant has begun the process of furloughing up to 275 pilots. The airline's 1,000 pilots joined the International Brotherhood of Teamsters in May and remain in discussions with Allegiant to mitigate involuntary furloughs.