Allegiant Travel Comany, parent of Allegiant Air, reported a loss of $46.5 million in the third quarter as revenue – and costs – surged significantly.
The Las Vegas-based ultra-low-cost carrier's operations generated just over $560 million of revenue in three months ending 30 September, a 22% increase from $460 million during the same period in 2021.
Operating expenses increased more than 50% year-on-year, to $591 million in third-quarter 2022 from $393 million a year earlier.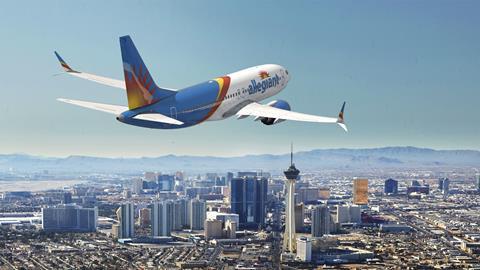 The quarterly loss includes $35 million in property damage to Allegiant's Sunseeker Resort in Charlotte Harbor, Florida caused by Hurricane Ian. The airline estimates that operational disruptions caused by the storm in September resulted in a further $3.5 million loss of revenue.
Demand remained strong throughout the quarter, said John Redmond, Allegiant's chief executive, during the company's third-quarter earnings call 2 November. He notes that the airline's bottom line benefited from the rise of so-called "hybrid travel".
"A new trend we are beginning to observe post-Covid is the increase in passengers combining business and leisure trips," Redmond says. "A recent survey showed that nearly 15% of respondents were travelling for both business and leisure."
"We also continue to see the strong positive impact of leisure travel from the unprecedented number of Baby Boomers who retired the past two years and now have the discretionary time to travel more," adds Scott Sheldon, Allegiant's chief operating officer. "Year-to-date, the number of new Allegiant customers aged 60 or older is up by more than 60% versus 2019 levels."
Allegiant operates 112 Airbus A319s and A320s, though it plans to break up the all-Airbus fleet next year.
In January, Allegiant ordered 50 Boeing 737 Max jets and took options for a further 50 airframes. Deliveries of the aircraft are expected to begin next year – but now, due to repeated delays in the Max programme, Allegiant expects to receive only three 737s in 2023.
"We are excited to bring on the Max aircraft, particularly as we believe they will bring a 30% earnings advantage compared to our A320ceos," says Greg Anderson, the carrier's chief financial officer.
The airline is currently in contract negotiations with its pilot and flight attendant groups. While new contracts are expected to add to the airline's future costs, "we expect them to increase the momentum in achieving full staffing levels and restoring our ability to optimize aircraft productivity", Anderson adds.
The company anticipates a profitable fourth quarter – estimating that scheduled capacity will increase to 15% more than 2019 – based on strong demand and "improvements in operations", Redmond says.