Allegiant Travel Company, parent of ultra-low-cost carrier Allegiant Air, reported a $93 million loss in the second quarter as the coronavirus pandemic ravaged the air transport industry.
The company's second-quarter operating revenue fell 73% to $133 million, the Las Vegas-based ultra-low-cost airline reported on 29 July.
That said, rising bookings in June led it to be a break-even month before a new surge in coronavirus cases in several southern states in which Allegiant has a strong presence put a halt to that trend, the airline says.
"The second quarter proved to be the most turbulent quarter in the history of the industry," says chief executive Maurice Gallagher on the company's earnings call.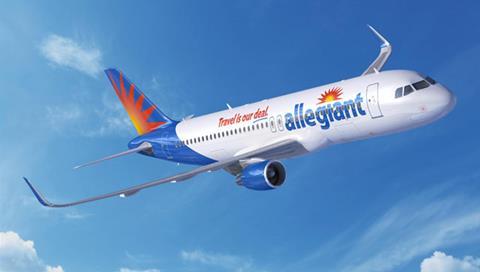 "As the virus spread throughout the country in March and April, the industry saw an unprecedented plummet in demand, followed by significant capacity cuts, upwards of 80-90%," Gallagher says. "As cases subsided, demand began trickling back in, only to begin recessing again with the uptick in cases beginning late June."
"It appears demand will continue to ebb and flow along with fluctuations in reported cases for the foreseeable future," he adds.
Despite turbulence, Allegiant executives say the flexibility of its business model will help it pull out of the coronavirus-prompted downturn.
Allegiant is known for connecting secondary cities to warm-weather vacation spots on non-competitive, point-to-point routes. Two of the cities in which it has the strongest presence are its home base of Las Vegas and Florida's Orlando – both currently experiencing spikes in coronavirus infections.
The increase in June bookings clearly tracked the reopening of casinos and resorts in Nevada in early June, and the theme parks like Walt Disney World and Universal Studios in southern Florida in July, airline executives say. "Unfortunately, the strength seen in June has since weakened as case numbers have risen," Gallagher adds. But should the health situation deteriorate further, "people won't put up with" another full shutdown, he says.
The carrier says capacity in the second quarter was about 50% of normal, with load factors averaging 50%, "a significant step in the right direction". That accounted for about 5% of all passengers who passed through airport security checkpoints, the airline says.
Allegiant anticipates capacity to rise to 75% in the third quarter of 2020, but come September, it will pull back frequencies when the traditional off-peak travel period in the US begins.
Chief operating officer Scott Sheldon says the demand outlook will be "choppy and uncontrollable" for some time.
Analysts have said low-cost and ultra-low-cost carriers like Allegiant will likely be first to experience some meaningful recovery from the global crisis in air travel, as they cater primarily to vacationers who are looking for little beyond safe transport. The airline's no-frills offering as well as a streamlined, all-Airbus fleet allows it to keep costs low in a business that often subsists on thin margins. Pent-up travel demand following months of shelter-in-place orders and lockdowns will benefit the company, they add.
"Although we were able to manage through the chaos of the quarter, arguably better than most, this environment is unsustainable long term," Gallagher says. "It continues to be of utmost importance to strengthen liquidity positions."
During the period from April to June, daily cash burn was about $900,000, down from more than double that at the end of March, but it is expected to rise again to "slightly above $1 million" in the third quarter depending on bookings.
Allegiant Air, which had a pre-pandemic workforce of about 4,500, has already identified 220 management and support positions it will eliminate, and it will likely need to shrink further. Gallagher and Sheldon note that most of the airline's work groups have realised the "need to spread the pain".
"We have been in discussion with all unionised work groups to drive creative solutions, and have made substantial progress with most," Sheldon says.
But he criticised Allegiant's pilots' union, the International Brotherhood of Teamsters, for being "unwilling to work with" management, which would likely lead to the furloughs of 275 pilots in the coming weeks. Executives say those 275 jobs represent $25-30 million in annualised cost savings.
Allegiant and other airlines that took pandemic-related government financial support may not furlough or lay off employees before the end of September.
Union representatives could not immediately be reached for comment.
The airline also says it will retire six Airbus jets in the next ten months, and another within three years. According to Cirium fleets data, Allegiant operates 38 A319s, of which three are currently in storage, and 64 A320s, of which five are in storage.
"We are in a position that we can be nimble with our fleet," says Greg Anderson, Allegiant chief financial officer. "As we think about the number of aircraft to retire in the future, we are taking it day by day."