Discounter Allegiant Air turned a $39.3 million profit in the third quarter, but its chief executive echoed peers in citing operational hiccups due to the pandemic and labour shortages.
"Despite the favourable revenue environment, the operation continues to present challenges," Allegiant chief executive Maurice Gallagher says on 27 October.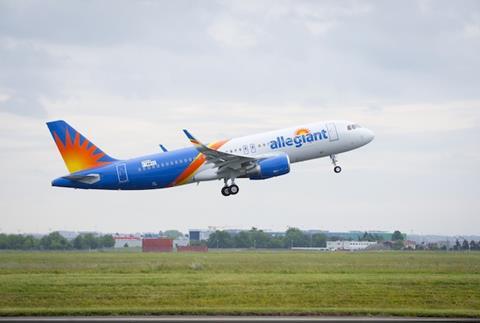 "The over-heated economy, continuing impacts of Covid, plus difficult labour environment created a perfect storm of challenges, including cancellations and delays over the past several months," he adds.
Allegiant remained profitable in the third quarter thanks partly to $49.2 million in US government payroll support grants, financial filings show.
The company's third-quarter operating revenue more than doubled year-on-year to $424 million, while operating expenses increased 68% year-on-year to $393 million.
The Las Vegas-based airline has responded to operational challenges by trimming some flights, "to mitigate the risk of cancellations", it says.
Several US airlines – notably Southwest Airlines and American Airlines – suffered high-profile operational upsets in recent months. Executives have attributed the problems to factors including weather, staff shortages and air traffic control issues.