American Airlines and JetBlue Airways are on the defensive following news that the Department of Justice intends to challenge their newly established alliance in the Northeast USA.
The Wall Street Journal reported that news on 21 September, saying the DOJ could file an anti-trust lawsuit as soon as today.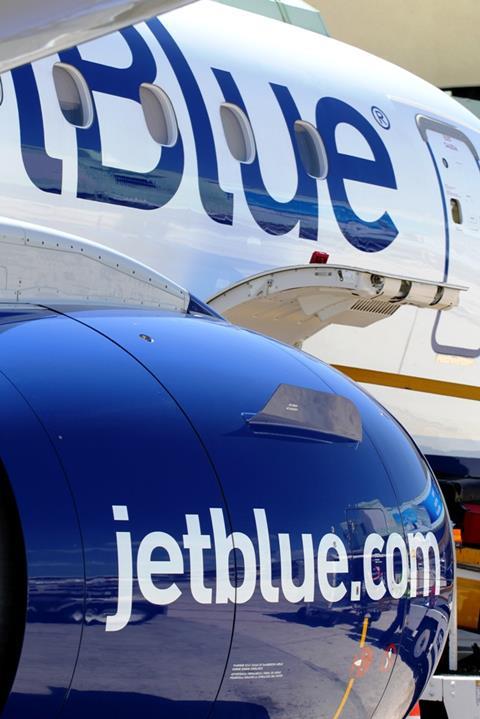 American says it has not received confirmation from the DOJ about such a lawsuit, and JetBlue deferred comment about a potential suit to the agency.
But American's chief executive Doug Parker addressed the news on 21 September when interviewed during a Washington Post Live webinar.
"It's disappointing," Parker said, adding that American will defend its alliance. "I'm quite certain we will prevail."
The partnership has let JetBlue expand at New York's congested, slot-controlled airports, that carrier says on 21 September. JetBlue has done so at least partly by "tapping into American's slot portfolio" – meaning JetBlue has been operating flights using slots held by American, the airline says.
As a result, New York-based JetBlue has brought "more of our low fares" to the Northeast, "stimulating demand to more routes."
The Journal's report says DOJ's suit will challenge the pact on grounds it threatens competition and could lead to higher fares. The report cites unnamed people familiar with the matter. The DOJ did not respond to a request for comment.
JetBlue and American in July 2020 disclosed their plan to form a "strategic partnership" in the Northeast USA – an effort to align operations and sell each other's flights so as to capture more business. The airlines said the partnership would help them weather the pandemic and give them better competitive footing in New York.
The move prompted quick pushback from competitors. Spirit Airlines, Southwest Airlines and trade group National Air Carrier Association, which represents US discount airlines, warned the deal could threaten competition.
The US Department of Transportation cleared the plan in January, with several conditions. JetBlue agreed to sell three slots at JFK and to lease (to a competitor) two slots at Washington, DC's Reagan National airport. American agreed to sell four JFK slots and lease four Reagan slots. JetBlue also agreed not to end non-seasonal JFK flights and to not discuss pricing or revenue with American.
The carriers began implementing the arrangement this year. It primarily applies to flights at Boston and New York City's three primary airports of LaGuardia, John F Kennedy International and Newark Liberty International. The airlines coordinated flight schedules and linked loyalty programmes, and now code-share on some 175 routes.
"By putting our networks together, we give more choice to consumers," Parker says during the Post's webinar. The agreement increases "competition, particularly in the Northeast – in New York and Boston – where American doesn't have as big a presence as Delta and United."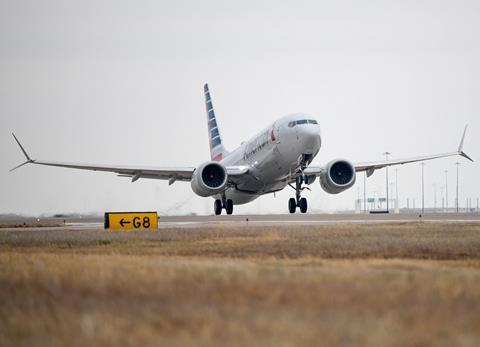 Parker notes American recently started flights from JFK to Tel Aviv and Athens – routes "that wouldn't have been flown if we didn't have this alliance".
American also says the partnership has enabled it to replace smaller regional aircraft with larger jets in Northeast markets.
JetBlue says accessing American's slots in New York let it expand to nine new cities and to add 32 new routes. Under the pact, the airlines have added 58 new routes from Boston and New York.
"By code-sharing with American and connecting to their global network, we create a true third competitor to Delta and United, which currently dominate this market," JetBlue adds.
"American, despite years of efforts, is plainly not competitive for NYC-based fliers."
Based on number of flights, JetBlue is the third-ranked carrier in New York, but first in Boston, according to Cirium data.
JetBlue's September schedule includes about 5,900 flights from the three New York airports, compared to United Airlines' 7,900 flights and Delta Air Lines' 8,800 flights (including those operated by partner carriers). American's September schedule has about 4,300 flights from the New York City area, Diio shows.
JetBlue has a commanding presence in Boston, with about 2,900 flights scheduled in September. Delta is number two at Boston with 2,800 flights, followed by American with 1,800 flights and United with less than 900, according to Diio.
JetBlue insists that despite working so closely with American in New York and Boston, it "continues to fiercely compete with American".
"Nothing in this arrangement would not have us be vigorous competitors elsewhere," adds Parker.