American Airlines earned a profit in the second quarter of the year – its first quarterly profit since the Covid-19 pandemic – as passenger demand bounced back.
The Fort Worth-based carrier said on 21 July it made $476 million during the three months which ended on 30 June. During the same quarter in pre-pandemic 2019, American posted a profit of $662 million.
Revenue for the quarter came in at $13.4 billion, 12.2% more than during the same period in 2019. The carrier flew 8.5% less capacity, however.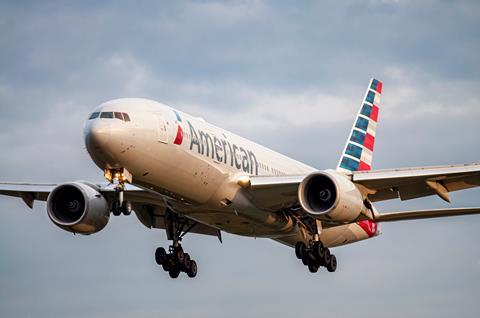 "We are very pleased to report a quarterly profit, excluding net special items, for the first time since the start of the pandemic, driven by the strong demand environment and the hard work of our team," American's chief executive Robert Isom says. "We are encouraged by the trends we're seeing across the business, and we remain well-positioned for the continued recovery."
During the quarter, American says it operated more than 500,000 flights, an 8% increase over the second quarter of 2021. Load factor was 87%, ten percentage points higher than during the second quarter of 2021.
June was a challenge, executives said, with significant inclement weather affecting the system on 27 out of the 30 days, and at every one of the company's hub airports. "That had a ripple effect across the system," Isom says.
In addition, the airline kept 100 regional aircraft and 40 larger types grounded during the quarter due to staffing issues, says chief financial officer Derek Kerr. Like its peers, American too is bringing back employees and hiring across its work groups. It has hired more than 1,200 pilots this year, according to pilot consultancy Future and Active Pilot Advisors.
Business travel has fully recovered to pre-coronavirus levels, but small and medium-sized companies are leading that recovery, while managed travel from larger firms are still lower.
Looking ahead, American says it will "continue to match its forward capacity with the resources required to support its operation," adding it has "built buffers" into its schedule to alleviate pressure. American is making "targeted investments" to improve operations and reliability, executives add.
Third-quarter revenue is forecast to be 10-12% higher than the same period in 2019, but capacity will remain 8-10% lower.
"Based on these demand trends and the current fuel price forecast, the company expects to be profitable in the third quarter," the company says.
"We are focused on getting back to sustained profitability," says Isom. "That's job number one."
Still, he calls the airline environment "murky" despite American's strong performance and rebounding demand.
"There's so many constraints out there, in terms of deliveries, people, pilots… We have the ability to improve revenue performance and get higher utilisation out of the assets we have," Isom adds. "But I'm reluctant to look too far out into 2023 and [predict] the margins."