Atlas Air Worldwide Holdings boosted its second quarter earnings as demand for air cargo services remains high.
The Purchase, New York-based parent company of cargo and charter carriers Polar Air, Atlas Air and Southern Air, on 5 August posted an $107 million profit for the second quarter of 2021, up from $79 million during the same period in 2020.
The cargo and charter operator reports quarterly revenue of $990 million, up from $825 million in the second three months of 2020.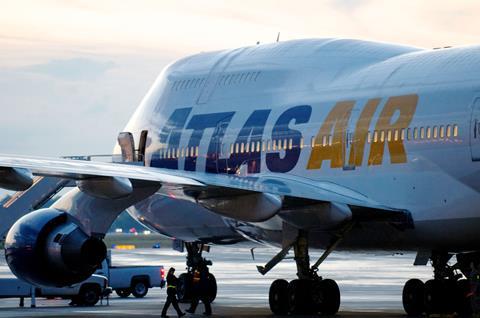 "Our strong performance continued in the second quarter, with revenue and earnings exceeding our already high expectations," says chief executive John Dietrich. "Demand continues to exceed available supply, particularly on long-haul international routes, as belly capacity on a significant number of widebody passenger aircraft remains out of the market."
Over the past year, the carrier benefited from an increase in cargo operations worldwide as a result of the global pandemic that almost completely shut down passenger operations. Cargo volumes have risen, as more customers turned to e-commerce for their shopping needs. In addition, long lead times and relatively high prices for ocean freight have helped the Atlas.
Charter operations for the US military also rose during the quarter, Dietrich says.
Atlas flew 93,190 block hours during the three-month period that ended in June, compared to 84,966 in the second quarter of 2020, the carrier says. It anticipates flying more than 90,000 block hours in the third quarter, and generating revenue of "nearly $1 billion".
"We expect market conditions to remain favourable in the third quarter and for our initiatives to continue driving strong performance. We are also closely monitoring developments related to Covid-19 and the Delta variant, and any associated impact on global airfreight, operations, demand and economic activity," the carrier says.
Since May, the company acquired three Boeing 747-400 Freighters that it had previously leased, and it will purchase five more at the end of their lease terms, between March and December 2022, Atlas says.
"Acquiring these eight freighters underscores our confidence in these assets and the global airfreight market," the company adds.
LABOUR RELATIONS
Atlas is "closer" to completing a collective bargaining agreement with pilots, says the company, which has struggled to reach an agreement since the merger of Atlas and Southern Air in 2016.
"The scheduled arbitration on open issues concluded in April, and both parties submitted post-hearing briefs in June," Dietrich says. "We expect to receive final and binding decision late in the third quarter."
But earlier on 5 August, its pilots' union said Atlas continues to act in bad faith, that pilots are leaving the company in droves and that Atlas' "leadership group is creating an uncertain future built on half-truths, misinformation and a lack of transparency".
"For over five years, the pilots worked in a good faith to get a new contract," says Robert Kirchner, trustee for the International Aviation Professionals (IAP), Teamsters Local 2750, which represents Atlas' pilots, on 5 August. "Atlas is bleeding pilots, threatening its ability to deliver products for its customers. The lack of a new and industry standard pilot contract competitive with other airlines plays a big part in pilots leaving."
"We're no further along in the process than in May," the union adds.