Atlas Air Worldwide Holdings, the parent of cargo and passenger carrier Atlas Air, profited from greater cargo volumes amid restricted capacity in the second quarter of 2022.
The Purchase, New York-based airline said on 4 August that revenue rose to $1.2 billion in the second quarter of 2022 compared with $990 million in the same quarter last year.
Profit fell 17.5% to $88.3 million from $107 million in the three months that ended in June. Fuel prices and increased pilot salaries drove the airlne's operating expenses higher as well, to $1.05 billion, up from $830 million in the same quarter in 2021.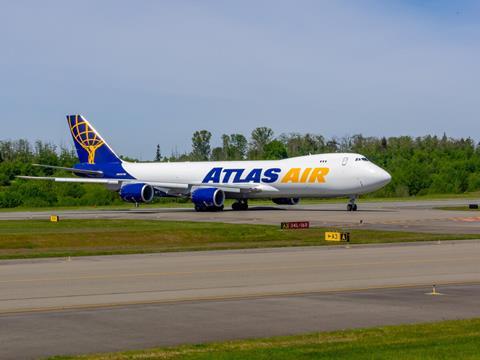 The company brought forward the publication of its quarterly results by one day after announcing separately earlier that it will be taken private by an investor consortium led by Apollo Global Management in an all-cash deal worth $5.2 billion. That transaction is expected to close later this year or in early 2023.
It will not be holding an investor call.
"We delivered second-quarter results in line with our expectations," Atlas Air Worldwide chief executive John Dietrich says. "Through the first half of the year, global airfreight volumes exceeded pre-pandemic levels, while capacity remains constrained, particularly on key long-haul cargo trade lanes."
The carrier notched 83,922 block hours during the three-month period between April and June, compared with 93,190 block hours in the second quarter of 2021.
The decline in block hours was mainly due to less flying for customers where Atlas provides crew, maintenance and insurance (CMI) only, as well as fewer passenger flights and operational disruptions related to an increase in Covid-19 cases among crew, the company adds.
The carrier took delivery of the first of four new Boeing 747-8 F aircraft, which will be the last of this type to be built by Boeing. The final three airframes are expected to be delivered later this year. Atlas is also expecting four new 777-200LRFs, the first of which will arrive in the fleet late in the fourth quarter.
"Acquiring these widebody freighters underscores our confidence in the demand for international airfreight capacity, particularly in express, e-commerce and fast-growing global markets, and will drive strong returns for Atlas in the years ahead," the company says.