South Africa's auditor general's office has testified to the chaotic condition of South African Airways' organisation during a judicial commission examining allegations of corruption and fraud in state companies.
The office participated for the first time in the audit of SAA's full-year financial statement covering 2016-17. SAA was experiencing liquidity problems and could not provide the office with the financial statements until October 2017, five months behind schedule.
Auditor general business executive Polani Sokombela described as "quite dire" some aspects of SAA's organisation, and detailed multiple concerns picked up during its audit of the company's financial state.
Sokombela told the inquiry on 21 February that the airline was experiencing "a lot of instability" at the time, with more than 40% of its executive committee positions filled in an acting capacity. There was no permanent chief executive, or head of finances, commercial activity, and strategy, and SAA did not have sufficient aviation specialists at board level.
Nor did the carrier have enough individuals with "appropriate competencies" regarding preparation of financial statements, understanding of regulations for supply-chain management, or compliance with the South African treasury's framework on performance reporting.
"That had a negative impact. We ended up having a lot of findings in those areas," said Sokombela, adding that compliance with legislation was a "serious challenge" at SAA.
The airline's annual report, he pointed out, admitted to irregular expenditure of R125 million, a sharp rise on the previous year's figure.
But Sokombela says the auditor general's office could not find evidence of "consequence management" – namely any sanction against transgressors.
He also pointed to a lack of capacity in the legal divisions tasked with overseeing SAA contract management. While successful suppliers were notified by letter when awarded a tender, he said, this was not always accompanied by a formal contract.
"That, in our view, was a big risk for SAA," said Sokombela. "Because if you don't have a contract signed with your suppliers, how are you going to control them?"
He told the inquiry that this situation – with little control over quality or even existence of supply – had probably been "going on for quite some time".
SAA had a "very big" contract register, he said, but for the "majority" of them the auditor general's office "could not find the signed contracts", meaning the credibility of the register was "questionable".
"When we were there and we looked at the state of affairs, it was quite dire," he added.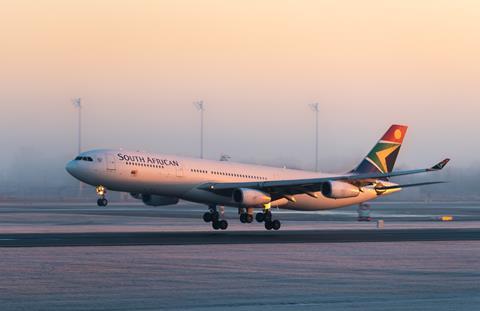 Sokombela described SAA's record-keeping as a "significant concern", telling the inquiry that obtaining information would sometimes take three months.
"This has resulted in significant limitations of scope on our side, due to that issue, especially in the areas of supply-chain management and also assets of SAA," he said.
South African president Cyril Ramaphosa, who established the judicial inquiry into state capture in 2018, authorised investigators earlier this month to probe allegations of corruption and unlawful conduct at the carrier.