Latin American carriers Avianca and Gol have agreed to join operations under a UK-based holding company while maintaining individual brands, a move intended to create long-term stability in the post-coronavirus environment.
"The principal shareholders of Colombia's Avianca and the controlling shareholder of Brazil's Gol have signed a landmark agreement to create a leading air transportation group across Latin America under a holding company structure named Abra Group Limited," the companies say on 11 May. "Subject to customary regulatory approvals and closing conditions, the Abra Group will control Avianca and Gol and bring together their iconic brands under a single holding."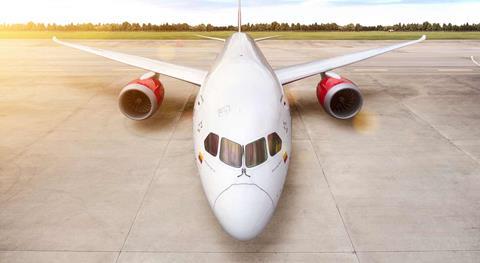 "Together, Avianca and Gol will anchor a pan-Latin American network of airlines that will have the lowest unit cost in their respective markets, the leading loyalty programs across the region and other synergistic businesses," the companies add.
The companies say the transaction, which is expected to close in the second half of 2022, will allow them to better compete in international long-haul markets and in cargo markets, and enable them to launch new routes.
"Avianca and Gol will continue to maintain independent brands, talent, teams and culture, while benefiting from greater efficiencies and investments under common aligned ownership," they say.
The new structure will be co-controlled by the principal shareholders of Avianca and the majority shareholder of Gol, and led by Latin American airline veterans.
Adrian Neuhauser, chief executive of Bogota-based Avianca, and Richard Lark, chief financial officer of Gol, will serve as the group's co-presidents, in addition to maintaining their current roles.
Abra Group will be chaired by Roberto Kriete, former executive at TACA before it merged with Avianca, and founder of Mexico's Volaris. Constantino de Oliveira Junior, who will serve as Abra Group's CEO, founded Gol Airlines in 2001.
Last month, Avianca's owners and low-cost operator Viva struck a deal to form a joint holding company, a move intended to provide greater financial stability for the Latin American carriers post-pandemic. Control rights of Viva's operations in Colombia and Peru are slated to move to the new holding company, contingent on regulatory approval. Until such point, Viva's operations in Columbia and Peru will remain independent of Avianca.
The companies say that, in light of this new transaction, the Viva deal will remain as planned.
"Through recent investments made by Avianca's and Viva's shareholders, the group will also own a non-controlling 100% economic interest in Viva's operations in Colombia and Peru, as well as convertible debt representing a minority interest investment in Chile's Sky Airline."
Colombian carrier Avianca last December become the first of three major Latin American airlines to complete court-overseen financial restructuring and emerge from Chapter 11 bankruptcy proceedings. The carrier had been forced into a formal restructuring process when the pandemic hit and revenues collapsed.