US airline trade organisation Airlines for America (A4A) estimates four years will pass before travel returns to normal following the coronavirus pandemic.
The group's chief executive Nick Calio says on 3 September that passenger airlines will not experience the V-shaped recovery that the industry initially expected.
"We are fighting for survival," Calio says on a webcast. "If things go well it will be 2024 before demand is where it was in early March."
"It's going to be a different world," he adds.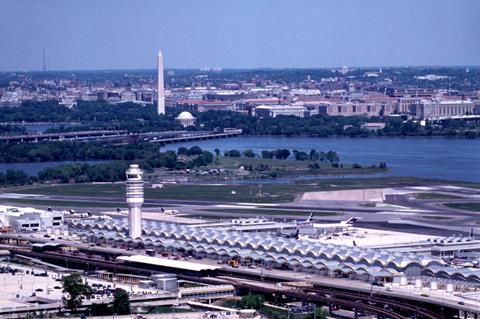 Global airline departures remain about 45% below 2019 levels, with domestic flights 42% lower and international flights 74% lower than in the previous year, the trade group, which represents ten major US passenger and cargo carriers, says. Sales revenue for future travel up to 330 days out is 86% below last year's figures.
But while US domestic travel has slightly rebounded from lows earlier this year, international travel is now causing the airlines most headache. Passenger demand remains especially depressed on these routes because of a hodgepodge of disparate, ever-shifting travel restrictions and entry bans.
The lobby group is calling on governments to harmonise virus-mitigation measures and agree to a common testing programme that would allow more and freer movement across borders.
VIRUS TESTING PROGRAMME
"One of the key steps to recovery is setting up an international pilot programme between the US and either Europe, Canada or somewhere in the Pacific to eliminate quarantine requirements if there is an adequate testing programme in place," says Sharon Pinkerton, A4A's senior vice-president of legislative regulatory policy.
"It's been a patchwork approach that calls for harmonisation on a global basis. We think starting with a pilot programme first is a good way to evaluate the type of testing that's needed and its efficacy," she adds
The organisation says tests must be "reliable, accurate, rapid… affordable and scalable".
"The good news is that this is an area that is developing incredibly rapidly and we think the US government has to take advantage of that to set up a pilot programme that would enable to the US to open the market and have other countries open their markets to us."
The USA eliminated a blanket international travel warning for US citizens last month. Other countries, citing US Covid-19 case numbers, have imposed onerous restrictions that effectively make US travellers unwelcome arrivals, and broad sentiment against passengers arriving from the US exists in some European countries. The US government, likewise, still prohibits many international travellers from US entry.
MORE AID
A4A has for weeks advocated an extension of government aid that kept most US carriers afloat in the early part of the year. That aid – up to $58 billion in grants and loans – has limited the impact of tumbling travel demand, but some carriers have still become squeezed for cash.
The federal government's financial support expires at the end of September, along with job protections enshrined in the agreement. Airlines and unions have warned mass layoffs could ensue, throwing the sector into additional turmoil.
In the meantime, airlines and unions have called on the US government to extend the support for another six months, with similar provisions.
A4A contends the aid is desperately needed because of the complex nature of the business. Pilots, flight attendants and maintenance personnel must be specifically and extensively trained to keep licenses current.
"The CARES act was no bailout, it was a jobs bill to keep people on board," Calio says. "We are not the type of industry that… can just throw the keys [to pilots] and say, 'Start up the airplane.'"