Brazil's Azul is banking on its fleet flexibility to match increasing demand for travel in the second half of the year after the coronavirus pandemic took a toll on the carrier in the second quarter.
The Sao-Paolo-headquartered airline posted a second-quarter loss of R$2.9 billion ($540 million) on total revenue of R$402 million, down 85% from the same quarter a year ago.
Calling the current period "the most challenging time in aviation history", Azul's founder and chairman David Neeleman tells analysts on 13 August that the carrier expects rapid improvement in the coming months, and has plans to react accordingly.
"Azul's fleet has flexibility like no other airline in Brazil, and we are using this to our advantage," says Neeleman. "We have aircraft ranging from nine seats to 214 seats in domestic markets, which allows us to customise our network to the evolving demand scenario."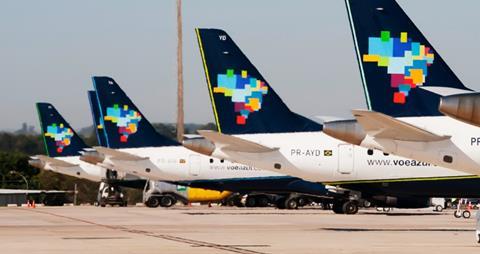 The airline is attempting to cover the trip cost of every flight it operates, executives say. Azul has reduced frequencies and swapped aircraft types as needed based on booking trends. Leisure travellers are returning to air travel more quickly than corporate travellers, but the company expects business travel will also be on the upswing soon.
The airline expects load factors "in the high 70s, if not a bit higher than that" in the coming months, says Azul chief revenue officer Abhi Manoj Shah. For June and July, the airline's load factors were already at 76% and 78% respectively, he adds.
"What has improved significantly in the last three weeks is the average fare, and that's been a very positive sign for the market overall, especially for us because we are alone in 85% of our routes," Shah continues.
Azul operated a low of 70 flights daily during April, when the pandemic began to tear across the region and numerous lockdowns prevented passengers from travelling widely. By September, the airline hopes to serve 88 destinations with 404 daily flights, corresponding to about 43% of its pre-coronavirus network. By December, executives say that number will rise to 60%.
"We are confident in the progress so far and expect this sequential growth to continue as the economy reopens," Neeleman adds.
Azul's total liquidity was R$6.6 billion at the end of the second quarter, which, Neeleman says, "is sufficient to see us through this challenging crisis". The airline's daily cash burn was about R$3 million.
In fleet news, Azul deferred deliveries of 82 aircraft, including 23 Airbus jets and 59 Embraer aircraft, to 2024. Azul was launch customer of Embraer's new E195-E2 variant, and has already received five of that type.
Azul ended the quarter with 138 aircraft in its fleet, mainly comprising A330s, A320neos, ATR 72s and E195s, and will be shedding aircraft in the coming months, the airline says.
Azul will deliver 12 older E-Jets E1 to Neeleman's new US regional airline project Breeze over the next year and a half, including two jets to be transferred in 2020. Azul also sold two E1s in August and accelerated the divestiture of three aircraft previously scheduled to leave the fleet in 2021.
RE-NEGOTIATED LEASES
Earlier this week, the airline said it had renegotiated with lessors, decreasing its lease burden through the end of 2021. The arrangement means Azul will benefit from working capital relief amounting to R$3.2 billion by the end of next year. It said it aligned the payment schedule with a "conservative demand-recovery scenario".
The new contracts will reduce the company's lease liability by 21%, to R$12.5 billion by December. Azul said the agreements are an important step towards its recovery, given that lessor obligations account for 80% of the carrier's overall debt.
"The deal we cut with the lessors [gives us] significant rent reductions through the end of 2021," Neeleman says. "I don't know any other airline that has done that. We have prepared the airline for a worst-case scenario and we are already seeing things that are better than that."
"We have created a significant amount of runway through our stakeholders. We have a sustainable network and great franchise here," he says.
On 13 August, Azul also commenced codeshare flights with LATAM in Brazil, a move that had been announced earlier this year. It is a "one-of-a-kind agreement that would never have been possible six months ago", Neeleman says. "We have taken advantage of a market opportunity and [the agreement] brings a tremendous amount of value to customers of both networks."
Azul's and LATAM's customers can now book flights on each others' platforms and earn miles in either frequent flyer programme. The airlines said in June that the codeshare agreement covers 50 non-overlapping routes within Brazil.