Brazil's Azul Airlines is "bullish" about booking and revenue trends after its revenue increased almost 60% from the second to third quarters of 2021.
The Sao Paulo-headquartered airline says on 11 November that operating revenue during the three months ending on 30 September totalled R2.7 billion ($500 million), up from R805 million in the same quarter one year ago. Still, that figure is 10% less than the R3 billion Azul reported during the third quarter of pre-pandemic 2019.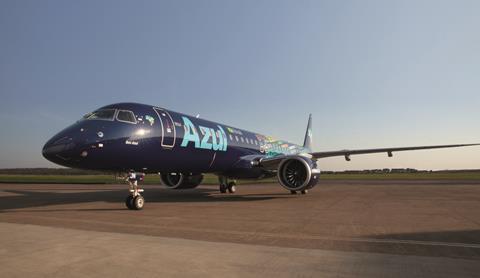 The company posted a loss of R2.4 billion for the quarter, owing mainly to foreign exchange losses, interest and lease liabilities.
That said, with increased vaccination rates, fewer coronavirus infections and deaths and more borders reopening to Brazilian tourists, Azul sees itself poised to benefit.
"In the quarter, we recovered our unit revenue to pre-pandemic levels, one of the few airlines worldwide to have achieved this milestone already and having done so a full quarter ahead of our expectations," says chief executive John Rodgerson. "Leading the industry in both capacity and unit revenue recovery clearly demonstrates the sustainable competitive advantages of our business model."
Driving the revenue boost was the company's cargo operation, which set another record in the third quarter, at R317.6 million. That is up 122% from R142.9 million during the same quarter in 2019. The company says it is on track to double cargo revenue in 2021 from 2019 levels, and reach "more than R1 billion by year end".
"These are companies and customers who are switching their businesses from ground logistics to air logistics," says chief revenue officer Abhi Manoj Shah. "Their businesses are getting stronger, they are delivering to customers faster and they are seeing the benefits [of air transport] as well. That's where the growth is coming from."
The company plans to launch a strategic partnership with US logistics giant FedEx, giving Azul access to the global FedEx network. The deal would provide FedEx access to 4,200 zip codes in Brazil, 1,000 of which Azul can deliver to within two days.
"It's a win-win for both sides," Rodgerson says, promising more cargo growth.
"When it comes to logistics, we are just getting started," adds Azul founder and president David Neeleman.
PASSENGER DEMAND
Executives predict international passenger demand will increase during the first six months of 2022, as the company spools up its international network. Flights to Orlando, Fort Lauderdale and Lisbon, Portugal are to begin in December.
Azul's revenue from international operations during the first half of 2022 will be about 50% of 2019 levels. "We will only be close to 2019 levels by the third or fourth quarter next year, and getting to 100% by the end of next year", Shah says.
"For domestic we are going to be larger than 2019," he adds.
Shah says that much of the growth will come from "up-gauging" – using larger aircraft with more capacity. "We will be lower in departures but higher in seats and stage length, which is really, really efficient growth."
The company's vacations segment, Azul Viagens, is "growing like crazy", Neeleman says, adding that he expects that business's 2022 revenue will also top R1 billion. Azul does not disclose the vacation unit's revenue in its quarterly results.
Azul's revenue from corporate travel is also rebounding and should continue improving as more employees return to offices, Azul's executives add.
"The momentum is growing," Shah says. "Companies are organising training seminars, group events, conferences, and this is a precursor to bringing their employees back into the office. We are at 70% now and improving month-to-month."