Azul's chief executive doubled down on comments he made last week about a potential acquisition of LATAM Airlines Group, pending the outcome of the Chilean airline's bankruptcy protection process.
"The macroeconomic situation promotes consolidation in this space," Azul's John Rodgerson says during the Sao Paulo-based company's third-quarter earnings call on 11 November. "We have a fiduciary responsibility to pursue consolidation."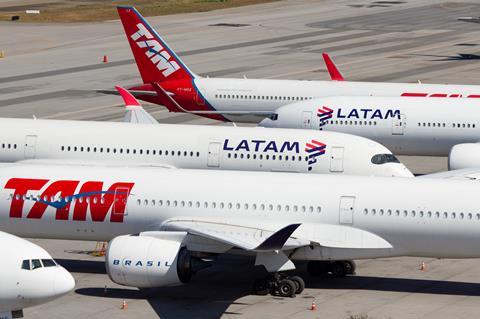 Last week, in an interview with a Chilean financial publication, Rodgerson revealed plans for possibly acquiring the much larger company. Those plans, however, are at an early stage and are only relevant if LATAM Airlines Group – which was itself formed by the merger of Brazilian carrier TAM and Chilean airline LAN – fails to reach an agreement on restructuring as it seeks to exit US Chapter 11 bankruptcy protection.
LATAM has until 26 November to present a restructuring plan to the US bankruptcy court for the Southern District of New York.
The Santiago-based carrier, along with Latin American peers Avianca and Aeromexico, filed for bankruptcy protection after the Covid-19 crisis last year precipitated border closures, decimating travel demand. Avianca's restructuring plan was accepted earlier this month, and Aeromexico has a court date on its reorganisation strategy next week.
"LATAM has a process that we need to respect", Rodgerson adds, but an acquisition could be "in the best interest of creditors and our shareholders".
"We certainly haven't given up on it because we think there is more to come as the exclusivity process expires in a couple of weeks and you'll hear more from us at that time," he adds.
Azul has previously expressed interest in consolidation opportunities in the region as early as May 2021, saying such moves could help Latin America's airline sector recover from the pandemic-driven downturn.
"Azul believes that consolidation is an important part of the post-pandemic industry response, and the company is in a strong position to drive that consolidation," Azul said on 24 May, adding that it hired advisers and was "actively exploring" opportunities.
Rodgerson says on 11 November that antitrust authorities "should be open to consolidation in Brazil and Latin America" considering that the continent's airlines received little or no financial support during the height of the Covid-19 crisis.
LATAM has not commented about Azul's interest.
"We are evaluating this issue," the airline said on 2 November.