American Airlines chief executive Doug Parker expects all the major US airlines to survive the current zero-revenue environment created by coronavirus pandemic, including the one he leads.
Despite the many millons of dollars being burned daily by American (and by its peers), filing for bankruptcy protection is not perceived by Parker as an option.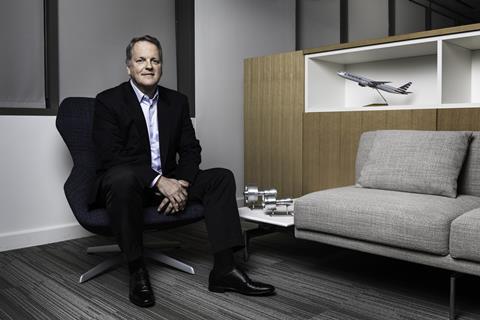 "I don't think people should view bankruptcy as a financial tool," Parker said during the virtual Bernstein Stragegic Decisions Conference on 27 May. "I think it's failure. While some like to play the game of, 'Gee, who might be in trouble?', I think we're all going to be fine."
Parker is convinced that US carriers, which – unlike airlines in South America – are receiving billions of dollars in federal emergency funds, will be able to raise enough liquidity to survive the crisis.
"We'll come out with more debt than we had before, but I don't think you're going to see any airlines go by the wayside as a result of this crisis," he says. "It's a demand crisis, and one that will be resolved by all of us doing what we need to do to survive until demand returns."
Parker foresees a collective US airline business that will be 10-20% smaller in summer 2020 than it was in 2019. "The effect is going to be as though a large airline went away," he says. "We're all going to be in this for the long haul, but don't take that to mean we're all going to be flying the same number of airplanes, and therefore we have to figure out a way to have 2019 revenue in 2021. We're all building our airlines in a way that doesn't anticipate having 2019 revenue in 2021."
American expects to have $11 billion in liquidity at the end of the second quarter; the forecast includes US CARES Act payroll support programme funding, a $4.75 billion loan American applied for under the CARES Act loan programme and additional financing to be secured by the airline. The carrier is hoping to reduce its daily cash burn of $70 million to $50 in June with the help of the CARES Act loan, which it expects will be approved soon by the US treasury department. American has $10 billion in unencumbered assets as of 30 April.
Finance chief Derek Kerr says the airline is modifying its cost structure to hopefully bring the daily cash burn rate down to the $40-45 million range while functioning in a zero-revenue market through the third quarter.
After government aid under the US CARES Act winds down on 30 September, American and the other US majors will be released from the condition preventing them from laying off employees and cutting pay rates.
"We will need to make sure that we right-size our company accordingly [after 30 September]," Parker says. "Hopefully, we wouldn't need to furlough anyone. I know that sounds like a stretch. It's a goal – it's not a commitment to the team. Given what we've seen [so far with the early retirements and voluntary furloughs] I'm not sure that we can't do that. For our investors, we know that we need to get the cost structure in line with the capacity, and that means our team as well."
American reports a recent, slight improvement in customer demand. The average load factor in April was 15%; the system load factor during the Memorial Day weekend was 56%.
Parker cautions that while the recent demand trends are encouraging, on a business level they hold little value – for now. "When we're flying 20% of our schedule, even with 50% load factors we're [still] down 90% of our revenue."