Romanian carrier Blue Air has taken a preventative measure under local insolvency law as it further restores its network after the coronavirus grounding.
Blue Air says it has taken the protective measure of 'concordant procedure' - a preventative action under which companies seek to reach agreement with creditors.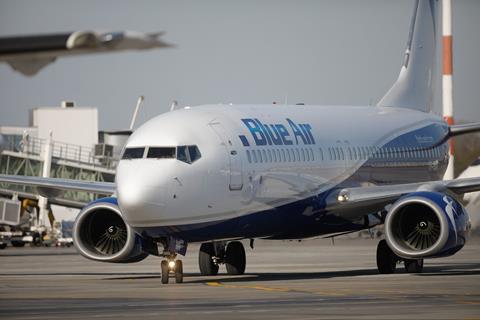 Blue Air has had its settlement procedure accepted by a court, allowing a staggering of debt payments while the airline's resumption of flights – in the aftermath of the coronavirus crisis – will start to generate the revenues necessary to meet its obligations.
The carrier says it has lost some €100 million in revenues over the course of March-June, as a result of the four-month disruption to its services.
"Despite the temporary difficulties caused by the suspension of flights due to the Covid-19 pandemic, we, at Blue Air, are determined to continue flying, to honour all our commitments and to pay all our debts." says Blue Air chief executive Oana Petrescu.
It will be assisted by a specialist division of financial firm KPMG which will act as a restructuring consultant.
The airline says that direct losses caused by the pandemic will be covered by the state aid approved by the Romanian Government in April, and debts to suppliers will be paid in instalments, "according to the schedule to be agreed in the concordat procedure".
Blue Air last month began restoring flights following the coronavirus grounding. Following the lifting of restrictions in Belgium, Italy, Spain and the UK, the airline is from today operating to "most of its traditional" destinations - comprising around 250 flights a week.
Blue Air is operating 20 international routes from Bucharest, six international routes from both Bacau and Iasi. The carrier has also resumed Dublin services from Cluj and Stuttgart flights from Sibiu. It is also operating domestic links from Bucharest to Cluj and Iasi, and Italian domestic services from its Turin base.