Brazil's Gol says the rise of 'bleisure' trips – a combination of business and pleasure travel – boosted earnings during the fourth quarter of 2022.
The Sao Paulo-based carrier on 8 March posted a profit of R$230 million ($44.6 million) in the final three months of 2022, while the fourth quarter in 2021 yielded a loss of R$2.8 billion.
Revenue at Latin America's third-biggest airline rose 62% year-on-year, to R$4.7 billion from R$2.9 billion, as it "judiciously" added back capacity to its routes.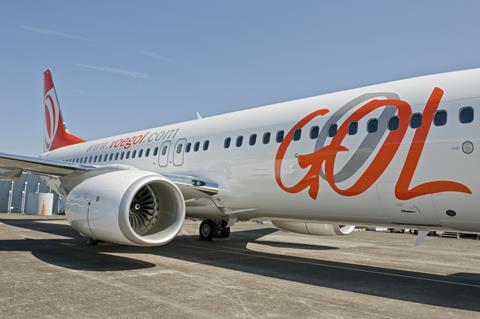 "This year was marked by the return to normal operations in many aspects," says chief executive offcer Celso Ferrer. "We were focused on controlling costs and increasing our margins, and our strong results in the fourth quarter are evidence that our approach is working. Customer demand continues to grow, particularly from business and bleisure travellers."
Gol has recouped 100% of corporate revenue compared to prior to the global health crisis, but only 70-75% of corporate passengers, Ferrer adds.
The company's costs also rose – with jet fuel expenses up 82% year-on-year in the fourth quarter.
Domestic markets are "slightly above levels pre-pandemic, but as we go through this year we are ramping up the capacity in the domestic market very cautiously to maintain the unit revenues that became crucial for us," Ferrer says. On its international markets, the company has added flights to Orlando and Miami but is holding back and observing market trends before deciding whether to add more international routes, and when, he adds.
"Some markets [that] we operated before the pandemic we are approaching very cautiously to understand what would be the best time to restart," says Ferrer. Those include, for example, flights Santiago and Lima.
The company says its aircraft completed 57,166 flights during the quarter, an increase of 26.4%, with capacity up 26.2% year-on-year.
Gol ended 2022 with 146 aircraft in its all-Boeing 737 fleet, including 38 737 Max, up from a fleet of 135 aircraft at the end of 2021. In 2022, the airline added 15 new Max aircraft. By the end of 2023, the company expects to have 53 Max.
Gol is still "playing catch-up" with the Max following the type's almost two-year grounding and the pandemic, says chief financial officer Richard Lark. "Gol is also being affected by the OEM bottlenecks [and] that's due to logistics problems," he adds. "Boeing has been working very closely with us to mitigate this and we are confident that our long-term partnership will continue to work."
The company holds orders for 92 more 737 Max, including for 67 of the Max 8 variant and 25 of the still-not-certificated Max 10.
"As we head into 2023, we will maintain the consistency of our operational performance and will strengthen our network with routes that will further enhance our productivity levels," Ferrer says. "Gol is on a steady course for success."