Brazilian airline Gol lost R1.7 billion ($301 million) in the third quarter but sees signs of industry improvement, as leisure passengers return to air travel.
Revenue during the period fell 74%, to R875 million, executives say during the company's earnings call on 4 November. But third-quarter revenue was more than double Gol's revenue in the second quarter, a period when airlines drew down schedules in response to suddenly declining travel demand.
The low-cost carrier transported 2.6 million passengers during the quarter that ended on 30 September, a 73% drop from the same period in 2019, but three times as many as in the second quarter.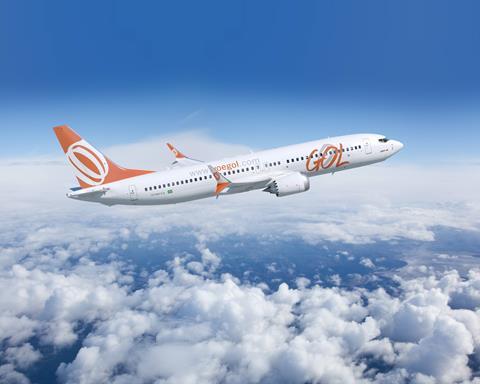 "These promising third-quarter results reflect the return of passengers to the skies in Brazil and our confidence in Gol's competitive advantages," says chief executive Paulo Kakinoff on 4 November. "The number of customers flying with us tripled in Q3 compared to the previous quarter, which is a remarkable rebound given the challenging market environment."
In July, chief financial officer Richard Lark said the airline was looking at the third quarter as a "bridge to a new normal".
Now, it seems Gol is finding that normal, at least with leisure travellers.
"If we look at the [leisure] segment only, we have recovered 100% of pre-Covid demand," Kakinoff says. "What is missing is the business travellers."
He adds that corporate travel usually makes up about 25% of passengers and 65% of revenue. That segment is still at 10-20% of year-ago levels.
Lark says the airline operated an average of 360 daily flights in 134 markets during the third quarter – 39% of daily flights Gol operated in the same three months one year ago. The carrier opened 36 additional bases in the quarter, bringing its total to 60. Gol plans to reopen another six bases during the fourth quarter, and increase capacity for the all-important end-of-year holiday season to about 80% of previous levels.
The airline plans to end 2020 with 94 aircraft, representing three-quarters of its operating fleet in the same period last year. It anticipates maintaining an 80% load factor.
Gol operates an all-Boeing 737 fleet, and is eagerly waiting certification of the more-efficient 737 Max. The airline has seven Max in storage and 95 on order from Boeing. Executives say they expect to return the Max to revenue service "as soon as the end of December 2020".
"Our single-type-fleet operating model and dominant position in the main Brazilian hubs with high-density traffic allows us to quickly add routes where required by demand," Kakinoff says. "We are adapting our network almost simultaneously to market variations, while maintaining our discipline to ensure equilibrium between supply and demand."
He adds that by the end of the first quarter of 2021 the airline expects to serve almost all of its pre-pandemic destinations.