Breeze Airways, the start-up passenger carrier headed by serial aviation entrepreneur David Neeleman, has applied to acquire the certificate of now-defunct Compass Airlines, and published plans for its first year of operation.
Breeze, which had originally been called "Moxy", had intended to launch air transport services in 2020. The airline pushed back its plans to 2021 due to the coronavirus pandemic and ensuing sharp drop in passenger demand across the air transport industry. It has also posponed until 2021 deliveries of Airbus A220s.
In a filing with the Department of Transportation on 9 July, Compass and Breeze applied for the transfer to Breeze of the "certificate of public convenience and necessity issued to Compass… which authorises Compass to engage in interstate scheduled air transportation".
Within its first twelve months of operation, the Salt-Lake-City-headquartered budget airline says it hopes to connect up to 15 secondary, underserved cities in the central United States. The region is also idiomatically referred to as "flyover country".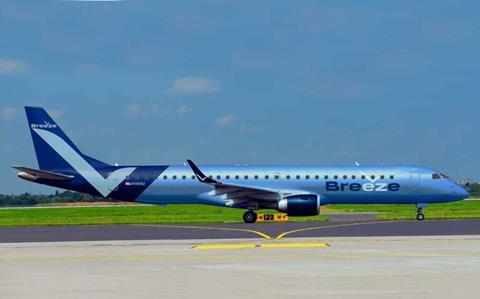 On 7 February, Breeze submitted its own application for an operating certificate which, it says in this new filing, it will withdraw pending transfer of the Compass certificate.
Compass, which flew regional routes for American Airlines as American Eagle, shut down on 7 April, the second US regional carrier to fall victim to the coronavirus pandemic after sister company Trans States Airlines folded just a week earlier. The airline operated a fleet of 20 Embraer 175 aircraft out of a hub at Minneapolis-St Paul International airport.
Breeze says in the filing it will begin operations in "mid-October 2020" out of the same location, and supervised by the same Flight Standards District Office of the Federal Aviation Administration.
But the public health crisis, which became a global health crisis earlier this year, has upended some of the new airline's plans, and stretched out its timeline, the filing says.
"Instead of operating charter services for three months before introducing scheduled service in the winter of 2020 as contemplated in the February application, Breeze will initially operate charter services for six months before entering scheduled service in May of 2021," the filing reads. "In addition, deliveries of the Airbus A220-300 aircraft produced in Mobile, Alabama, have been postponed until August 2021."
For initial services, Breeze says it has signed a lease agreement with Nordic Aviation Capital to lease 15 Embraer 190 aircraft, a larger version of the aircraft Compass used.
"From… approximately May 2021 [until] August 2021, Breeze plans to… service 15 cities, most of which connect areas of the country known by the pejorative term 'fly-over country'," the airline writes, saying its scheduled operations will include flights to the East Coast, South, Texas and Midwest.
From October 2021, with the new, larger A220s joining the fleet, Breeze intends to launch transcontinental flights that will connect both US coasts.
Breeze is one of two planned new regional carriers which had been announced earlier this year. The other is a yet-to-be named airline, currently based in Houston, backed by former United Airlines executive Andrew Levy.