The parent company of All Nippon Airways (ANA) is working to "maximise profitability" of its airline business amid a rebound in travel demand, as part of a newly-unveiled corporate strategy that targets "further growth" beyond recovery in the long-term.
In a three-year strategy disclosed 15 February, ANA Holdings outlines its plans to "cover a wide range of global demand" though its airline businesses, which comprise mainline premium brand ANA, low-cost carrier Peach, and AirJapan, a mid-market medium-haul unit due to launch this year.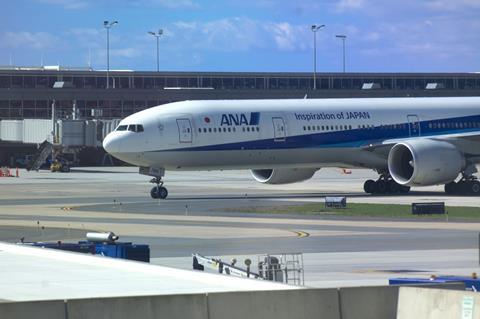 The ten-page disclosure comes after the group undertook a major business shake-up in October 2020, after being battered by a collapse in travel demand from the Covid-19 pandemic.
"Now with recovery in demand becoming clear, ANA Holdings sets sight on a brighter future, as we position the airline business at our core and expand into new realms to strengthen the ANA ecosystem, with the aim to shift to a growth trajectory toward 2030," the group states.
Under the mid-term plan, mainline operator ANA will focus on "restructuring" its existing network, resuming and increasing international flights to and from Tokyo's Narita and Haneda airports. Domestic operations will now only "focus on core routes", says ANA Holdings.
Low-cost unit Peach, meanwhile, will "capture demand from leisure travel", as well as visitors to Japan from Asia. Its network focus will remain on short- and medium-haul routes in Asia where leisure and inbound demand is highest.
AirJapan, whose launch is expected by end-March, is expected to "capture inbound demand…by launching flights to major cities in Southeast Asia, where the market opportunity is large and growing".
ANA Holdings also expects the new unit to offer a "competitive advantage" by "leveraging the ANA Group's LCC knowledge to achieve high business efficiencies along with quality".
The three brands are also eyeing "collaborative marketing" opportunities, as well as a consolidation of functions, says ANA Holdings.
FULL DOMESTIC RECOVERY IMMINENT
ANA Holdings expects domestic operations - helmed by both ANA and Peach - to hit and surpass pre-pandemic capacity before the middle of this year. By April 2024, domestic capacity is expected to be 5% higher than pre-pandemic capacity.
ANA and Peach will "pursue a profitable network by optimising supply to demand", with closer collaboration between the two operators to continue in the near term.
ANA's domestic route network will focus on trunk routes, while Peach will "concentrate resources" on routes with high profitability from Osaka Kansai and Tokyo Narita.
The remaining parts of the network will be covered through partnerships, including with airlines like Air Do and Solaseed Air.
As for international operations, ANA Holdings expects a faster capacity ramp-up in the near-term, with ASKs 5% higher than 2019 levels by April 2024 – similar to domestic capacity targets.
ANA and Peach are currently operating at around 80% pre-pandemic capacity.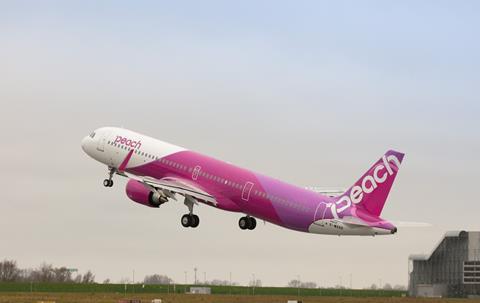 The imminent launch of AirJapan is expected to help push capacity upwards and become a new source of revenues.
The group also disclosed plans to expand ANA's cargo operations, positioning the carrier as a "combination carrier" that operates passenger and cargo aircraft.
While cargo was essential to keep the airline afloat during the pandemic, the airline will now adjust its cargo strategy to balance between bellyhold and freighter capacity. ANA will consolidate its cargo routes to operate only out of Tokyo Narita, while tapping into opportunities from carrying oversized and special cargo.
ANA Holdings was in the black in the nine months to 31 December 2022, reporting an operating profit of Y99 billion ($740 million) on the back of a 70% jump in revenues. It was also upbeat in its full-year earnings forecast, revising upwards its expected profit.