British Airways hopes to finalise talks with unions and London Gatwick airport over a new short-haul operation in time to launch its summer plans around the end of November.
The Oneworld carrier has not flown short-haul routes from Gatwick since the pandemic hit and has said it will only restore such flights under a separate lower-cost operation.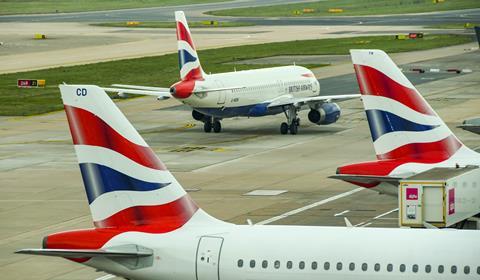 That was underlined by Luis Gallego, chief executive of BA parent IAG, during a third quarter results briefing today.
"What is clear is we cannot continue with the model that we have in the past, because in the last 10 years only in one of them have we made a profit," he said. "So we need to deliver more, because also competition is going to be tough. So BA is trying is trying to reach an agreement to develop a platform and to create a new AOC with the BA brand."
The project almost appeared to fall at the first hurdle when pilots' union BALPA initially walked away from talks on the project. But pilots last month backed terms for a Gatwick operation after talks resumed and BA is continuing negotiations with other staff groups.
British Airways chief executive Sean Doyle says: "We are close to finalising our crewing agreement with cabin crew, we are working on our ground staff [deal] and also we are in the final stages of negotiations with Gatwick airport –I think that will come to a conclusion in the coming weeks.
"What we need is a flexible operation and a competitive cost base to compete with, in primarily a point-to-point leisure market."
He adds: "We are looking to publish our summer schedule when you get towards the end of November, the time when people finalise slots and you get to go on sale for the promotional period over Christmas. So that's the timeline we are aiming for," he explains. "We have been working on a number of things in parallel alongside our negotiations, so we are confident we will have a robust plan to get ready for next summer."