British Airways has sealed a codeshare agreement with South African carrier Airlink, helping to fill the void left by the collapse of long-standing franchise partner Comair last summer.
The South African carrier had been a BA franchise partner for 25 years, but was forced to ground flights in May last year amid a funding crisis that would ultimately force Comair to cease operations.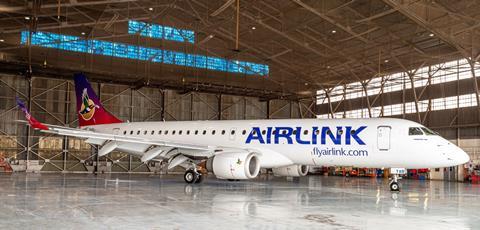 BA will now codeshare with Airlink, the regional carrier which serves a network of 13 countries from its bases in Cape Town, Durban and Johannesburg using a fleet of more than 50 Embraer regional jets. BA flies to Johannesburg twice-daily from London Heathrow using Airbus A380s, as well serving Cape Town double-daily from Heathrow and three times a week from London Gatwick.
BA director of network and alliances, Neil Chernoff, says: "Our flights to Cape Town and Johannesburg continue to be as popular as ever with our customers, so we're pleased to be able to open up more options in the Southern African region."
Airlink has embarked on a standalone operator strategy, having secured its own AOC after ending its own franchise agreement with South African Airlines in early 2020. It also rebranded from the SA Airlink name and has since struck codeshare deals with carriers including Emirates, United Airlines and BA's Oneworld partner, Qatar Airways.
"This is an important next step in our partnership with British Airways, which has a phenomenal global reach into the most important markets for our region," says Airlink chief executive Rodger Foster.
"The marriage of our two networks will benefit both British Airways' and Airlink's customers, giving them even more choice with a wide range of itinerary options and connectivity possibilities."