Canadian ultra-low-cost carrier Flair Airlines says there is "zero chance" that it will lose its permission to operate after the Canadian Transportation Agency (CTA) last month determined the company may be violating ownership rules.
"There is zero chance that Flair is losing its license on May 3rd," Flair's chief executive Stephen Jones says on 21 April. "Flair is here to finally make air travel affordable for all Canadians. The cost of air travel in Canada has been too high for too long, and I think we all know the reason why that is."
On 3 March, the CTA had said in a preliminary ruling that the Edmonton-based company might be violating the Canada Transportation Act, which requires Canadian airlines to be under majority-Canadian control.
At the time, the agency gave Flair 60 days to respond to the allegations. Those 60 days expire on 3 May.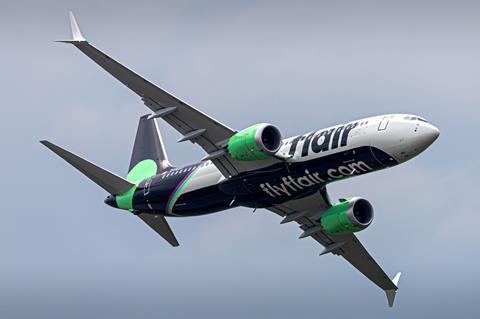 Jones says that most of the issues have been resolved in the meantime, except for some outstanding debt the company still owes to US-based 777 Partners, which holds a 25% stake in Flair. 777 Partners helped the company manage through the crippling coronavirus crisis.
Flair has asked for an 18-month extension to refinance that debt.
Earlier this week, the National Airlines Council of Canada (NACC), which represents the country's largest passenger carriers including Air Canada, Air Transat and WestJet, urged CTA to reject Flair's request.
"At a time when traveller confidence is reviving, and the entire tourism industry is edging toward the beginnings of a post-Covid recovery, it is in the public interest for the minister of transport to dismiss this exemption request and require Flair to meet their statutory obligations as prescribed by the Canadian Transportation Agency," interim president Suzanne Acton-Gervais said on 19 April.
"If granted, this unprecedented request would allow Flair to continue operating outside the bounds of existing Canadian law, setting a troubling precedent while also threatening consumer confidence in the sector, at a time when the travel industry is working hard to provide a strong and sustainable future for air travel for Canadians," she adds.
In December, Flair said it planned to double the size of its fleet over the next two years with the addition of 14 Boeing 737 Max 8s. The new leased aircraft, all with 189 seats, will allow it to pursue "ambitious growth plans" across North America and Mexico.
According to Cirium fleets data, it currently has 14 aircraft in service - six of which are owned by 777 Partners - and is targeting a fleet of 20 by the end of 2022.
On 7 April, Flair launched twice-weekly service between Toronto and New York City's John F Kennedy International airport. It is planning five other US routes this year which include connections to Nashville, San Francisco, Anchorage, Chicago, and Tucson.
The budget travel segment in Canada is getting crowded, with two established carriers - Flair and WestJet subsidiary Swoop - and two start-ups hoping to capitalise on the post-pandemic travel boom. Earlier this month Calgary-based Lynx Air began revenue flights with a fleet of new 737 Max 8s, and Canada Jetlines, which so far has one used Airbus A320, is aiming to launch flight operations during the summer holiday season.