Canadian passenger and freight charter airline Nolinor Aviation has announced plans to launch a new airline later this year despite the coronavirus crisis that has decimated the travel industry.
The Montreal-based carrier, which has been operating charter and speciality flights across Canada's far north for almost three decades, says on 7 July that it is looking to take a slice of the holiday travel market from Canada's established market leaders.
The airline says it has been "secretly working since 2018 to create a new airline that will position them in the tourist flight market". It has invested "more than $1 million in a think tank to reinvent the way things are done in this industry".
The result is an airline called OWG, which stands for "off we go".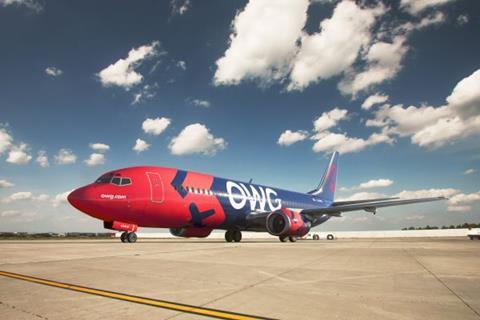 "The flight portion of your trip should be an integral part of your vacation," says Marco Prud'homme, president of the new airline. "Traditional airlines have chosen to cut the quality of their services year after year with no regard for the passenger experience. Our goal is to win the hearts of Quebecers with a new airline whose mission is to get travellers excited again."
Nolinor says it acquired several Boeing 737-400s with 158 seats earlier this year for OWG, and on 6 July received permission from the government of Canada to launch international service.
On its website, a countdown clock indicates the launch will be on or near 31 August. The airline has not revealed routes or frequencies. It only says it will be flying to "tropical destinations".
The timing of the launch is curious, as most major airlines across North America have had to cut networks, store aircraft and lay off staff after passenger demand dropped sharply as a result of lockdowns and shelter-in-place orders designed to prevent the spread of the coronavirus. Most major carriers have had to access government aid to manage through the resulting liquidity squeeze.
Canadian holiday specialists Air Transat and Sunwing Airlines halted operations in April and expect to resume flights and tour operator activities at the end of July. Calgary-based WestJet, which also has a strong leisure-traveller business to southern destinations, said last month that it was eliminating more than 3,000 jobs due to the crisis, leaving less than 5,000 employees out of a pre-coronavirus workforce of 14,000.
In the US, the launch of David Neeleman's Breeze, a new carrier that aims to connect secondary markets, has been delayed to 2021 due to uncertainty around the bounce-back of passenger demand following the coronavirus pandemic.