Canada's Transat AT, the parent company of leisure carrier Air Transat says it is evaluating all options as it grapples with the effects of the coronavirus on its business.
The low-cost vacation airline and package trip specialist says on 12 March that it is begun to suspend flights and cut some destinations out of its network. It is reducing costs, including suspending discretionary spending and launching a voluntary reduced-time program for its employees. The airline has seen a drop-off in bookings since late February, in line with other airlines as well.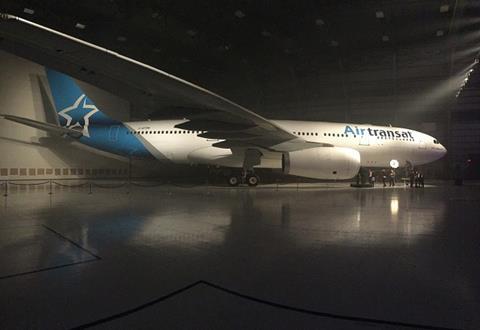 "Since February 24, daily bookings are lower than last year's and the difference has increased significantly in recent days. In the current situation, it is impossible to predict the effect on future bookings," the airline says. "Consequently, the corporation will not provide an outlook for the second quarter or for the summer."
That said, first quarter results were higher than during the same period a year ago. The Montreal-based tourism operator says it posted operating revenues of C$692.8 million ($501.2 million) for the quarter, up 7% from last year. The company reported a first-quarter loss of C$33.8 million, down from C$53 million in the same quarter in 2018.
"This increase was attributable to the 10.8% increase in the number of travelers in the sun destinations program, the corporation's main program for the winter season, resulting from the decision to increase capacity," Transat says.
"We're satisfied with the improvement in results for the first quarter, even though the coronavirus epidemic makes the rest of the year difficult to predict," says Jean-Marc Eustache, Transat's chief executive. "But Transat has already faced several epidemiological threats in the past, including SARS and H1N1, and I firmly believe that the resilience of our teams and our solid balance sheet will enable us to deal with risks and difficulties once again. We're taking all the necessary measures to allow our clients to travel with peace of mind."
Eustache adds that Air Canada's planned acquisition of all issued and outstanding voting shares of Transat is still on track to close in the second quarter of 2020, pending regulatory approval, despite the turbulence the entire industry is experiencing as a result of the coronavirus fears.
Last August, a 95% majority of Transat's voting shareholders approved the agreement for Air Canada to buy the company for C$18 per share, which would make the cash transaction worth C$720 million.