US commuter airline Cape Air has named Linda Markham to be its next chief executive officer after founder and long-time CEO Dan Wolf steps down in January.
The Hyannis, Massachusettes-based regional carrier says on 3 December that Wolf, who has led the company for 32 years, will remain on the company's board of directors, advising on its strategic and long-term initiatives.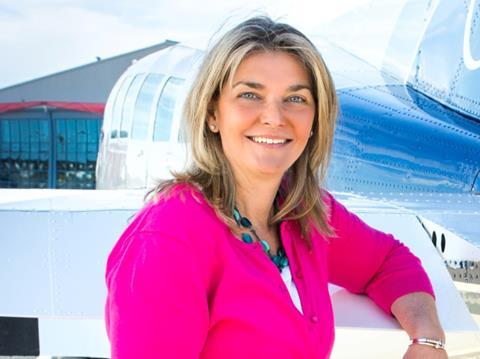 "Building this airline from one route and a handful of employees to the company Cape Air is today has been a blessing and privilege for which I am truly humbled," Wolf says.
Markham joined the company in 2002, and has served as the carrier's president since 2013. She will be "the only woman CEO of a major or regional airline in the United States", Cape Air says.
"With tremendous gratitude to Dan and Cape Air's board of directors for their trust and support, I look forward to assuming my new role and helping Cape Air soar to new heights," Markham says. "I am humbled by the opportunity to lead such an outstanding organization."
Wolf founded Cape Air in 1989 with just one route – Boston to Provincetown, on the tip of Cape Cod. At the time the company had just eight employees and transported 8,000 customers.
Today, along with sister airline Nantucket Airlines, Cape Air says that it transports more than 500,000 customers every year. It serves 38 cities in the USA and Caribbean with a fleet of 101 aircraft, including 27 Tecnam P2012 Travellers, and 70 Cessna 402Cs.
The airline flies a series of routes in the Northeast USA, linking the islands of Nantucket and Martha's Vineyard to the mainland, and operating other flights that radiate from Boston. Cape Air has smaller operations from Montana, the US Midwest and Puerto Rico.