Cargo capacity in the bellies of passenger aircraft will be necessary for the efficient distribution of Covid-19 vaccines, according to IATA.
Speaking during media briefing today, Glynn Hughes, IATA's outgoing head of cargo, says: "To facilitate the effective distribution of a vaccine, we need the passenger network to be up and moving."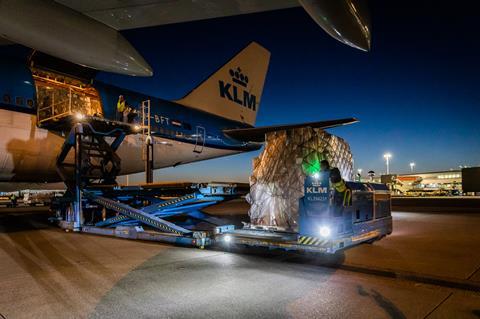 Around 50% of air cargo typically travels on passenger aircraft, with normal freight operations currently disrupted by Covid-19's impact on airline networks.
In order to get the vaccine to locations where air cargo operations are infrequent, "it is critical to get passenger operations resumed", says Hughes.
Cargo and passenger airlines have several preparations to make in order to effectively transport the vaccine.
Some vaccines require "ultra-cool" environments and will rely on aircraft and airport facilities that can provide this. The need for ultra-cooling also raises the prospect of aircraft having to carry substances such as dry ice.
Hughes notes the "ultra-cool" Pfizer vaccine, one of the key products planned to be rolled out globally, is packaged in a self-contained, sealed unit that can accommodate less severe ambient temperatures.
In a wider look at the economics of transporting the vaccine, IATA chief economist Brian Pearce believes that the distribution will unlikely become a "major factor" in airline profitability.
Overall cargo capacity is still around 25% lower than last year because passenger operations are vastly reduced, bolstering yields.
"Revenues have been very strong in complete contrast to [a] catastrophic revenue fall in the passenger business," explains Pearce. "Moving forwards, the situation in the next year is still going to be supportive to airline revenues."
Demand for cargo remains firm with companies using air services to restock inventories, support supply chains and carry medical supplies.
IATA forecasts there will be a 13% rise in air cargo volumes next year – twice the overall growth in global trade.
Cargo revenues as a share of total airline revenues were 12% in 2019, and are expected to grow to a third this and next year, says Pearce. "[Cargo revenues] are important to generate cash on many long haul routes."