Cathay Pacific has reported "improvements" in passenger travel demand in July — despite seeing a slight dip in capacity for the month — as it anticipates a further boost to demand in August and September.
The Hong Kong-based carrier, which recently narrowed its half-yearly losses, also maintained its forecast of operating at 30% pre-pandemic capacity by the end of the year.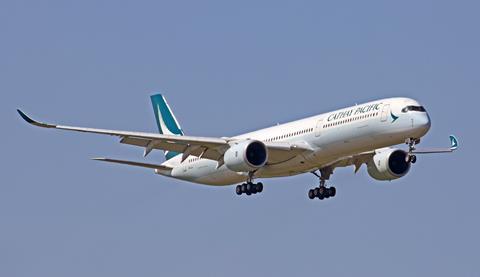 In July, Cathay flew just over 54,000 passengers, about 26% higher year on year, but still a dismal 98% decline compared to the same month in pre-pandemic 2019.
The carrier flew an average of 1,745 passengers a day in July, higher than the 1,355 passengers it carried in June. Cathay's chief customer and commercial officer Ronald Lam adds that on 29 July, the carrier flew more than 2,500 passengers — the most number in a day this year.
RPKs for the month rose nearly 23% year on year, but was down 98% compared to pre-pandemic levels.
As for capacity, Cathay reported a 0.7% year-on-year uptick, but a 93% plunge compared to 2019. Lam adds that capacity was down 3% compared to June figures.
Passenger load factor — at 28.5% in July — is the highest so far in 12 months, representing a 5.1 percentage point increase year on year.
Lam attributes the improvement in traffic to "robust" transit traffic from Mainland China to the US and Canada.
"On top of that, we captured a few pockets of demand for flights from the Chinese Mainland to Southeast Asia, in particular to Jakarta and Hanoi. The increase in demand compensated for the loss of traffic from flights that remained suspended last month, notably from the UK, the Philippines and Indonesia," he adds.
Cathay expects student traffic to the US and UK to boost its traffic in August and September, respectively, noting that forward bookings indicate full flights during peak travel periods in the two months.
On the cargo front, Cathay carried 121,600t of cargo and mail, 19% higher year on year, but more than 28% lower compared to 2019.
Cargo capacity increased 12% month on month, helped by an increase in cargo-only passenger flights, as well as a full resumption of freighter operations. Capacity also rose 10% year on year, but was down 39% compared to July 2019.
The Cathay group reported an operating loss of HK$5.4 billion ($694 million) for the six months ended 30 June, narrowing its loss on the back of steep cost-cutting.