Beleaguered Cathay Pacific Group has swung back to a cash-burn position as the Hong Kong government's tightening of coronavirus restrictions significantly crippled airline operations.
At a press briefing following the release of its full-year results, Cathay chairman Patrick Healy says the airline group has been burning between HK$1 and 1.5 billion ($128 to $192 million) since February.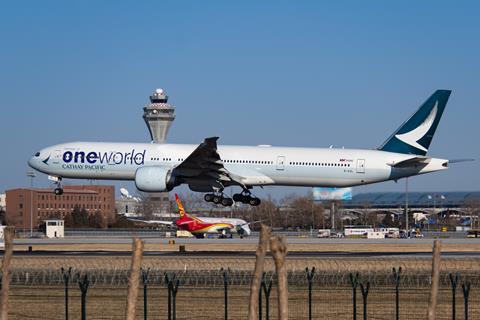 This compares to a cash-positive position that the airline group reported in the second-half of 2021. It is also lower than what the airline reported in the first half of 2020 at the onset of the coronavirus pandemic. Then, it said that monthly cash burn was as high as HK$3 billion a month.
Still, Healy stresses that the airline's liquidity "remains healthy", with available unrestricted liquidity at around HK$30 billion as at end-2021.
"The strong liquidity position gives us great confidence that we can overcome the ongoing challenges and emerge from this crisis as a more efficient and more competitive airline than we were before. Our confidence in the long term outlook of the Hong Kong aviation hub — and our position at the center of that hub — remains undimmed," Healy adds.
Since early this year, Hong Kong has imposed its strictest measures yet to combat its worst-ever outbreak of infections, which stem from the highly contagious Omicron variant. This includes banning flights from certain countries and imposing lengthy quarantine restrictions.
The move led Cathay to significantly slash capacity: it is now operating at just 2% pre-pandemic capacity for passenger flights, while cargo — the carrier's sole bright spot in an otherwise bleak 2021 — is only operating at around 30% pre-pandemic levels.
The skeletal operating capacity will continue for as long as current "constraints" continue, the airline adds.
The airline group narrowed its annual losses in 2021, helped by strict cost management measures and cargo performance.
At the media briefing, Healy also stressed that the airline group is not planning to further trim its workforce, similar to comments a year ago during the airline's 2020 results.
"We have reassured our people that we have no intention to undertake more salary cuts, or special leave schemes, or redundancies, or anything of that nature. None of that is planned," says Healy.
Cathay in October 2020 slashed 8,500 jobs — nearly a quarter of its workforce then — as part of a broad restructuring plan, which also saw regional unit Cathay Dragon shuttered.