Cathay Pacific expects to cut its monthly cash burn significantly over the next few months, as Hong Kong gradually eases onerous travel restrictions.
The carrier now expects monthly cash burn of around HK$500 million ($63.7 million), compared to between HK$1 and 1.5 billion disclosed in early March, when Hong Kong tightened pandemic curbs to battle a wave of Omicron infections.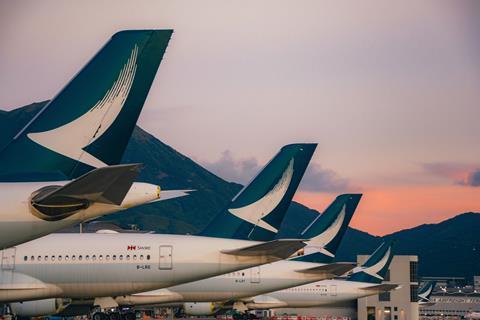 Since then, Hong Kong has loosened restrictions - albeit only slightly - including lifting a travel ban on nine countries, namely key Cathay markets such as the USA and UK.
Cathay's chief customer and commercial officer Ronald Lam says the city's decision to adjust travel restrictions "will help facilitate the gradual resumption of travel activities and the strengthening of network connectivity to and from the Hong Kong aviation hub".
The beleaguered airline's monthly passenger traffic in April remained in the doldrums - capacity remained at just 2% pre-pandemic levels - though Lam notes there were some signs of demand recovery.
Cathay flew over 40,000 passengers in April, about 82% higher year on year, but 99% down from pre-pandemic 2019.
Traffic rose 61% year on year, but was down nearly 99% against 2019, while capacity shrunk 30% against 2021.
Lam notes demand rose following Hong Kong's easing of flight bans, with the airline increasing flight capacity by about 25% month on month. Demand was particularly strong on flights from the UK, he adds.
Cathay is also eyeing the resumption of flights to several other destinations over the next few months, which will have a "positive impact" on cost base.
Says Lam: "We have been and will continue to actively resume more flights to more destinations in the coming months. Our flight arrangements from early June notably include daily flights to and from London Heathrow. We will also be resuming or increasing passenger flights for a number of important markets, including the United States, Australia, New Zealand and India."
On cargo, Cathay carried more than 92,000t of freight in April, up 26% year on year, but a decrease of nearly 44% against pre-pandemic 2019. Capacity remained curtailed with quarantine restrictions, with the airline operating cargo capacity at just 29% pre-pandemic levels.