China Eastern Airlines expects to restore much of its domestic network for the upcoming Lunar New Year period, which will be the airline's first peak travel period since China dropped much of its onerous Covid-19 restrictions and reopened borders.
In a statement on 9 January, the Shanghai-based carrier says it expects to operate at around 87% pre-pandemic capacity for the 40-day Lunar New Year travel period, which began on 7 January and ends on 15 February. 
The Lunar New Year is traditionally a peak travel period in Mainland China, with large numbers of travellers expected to move across the country.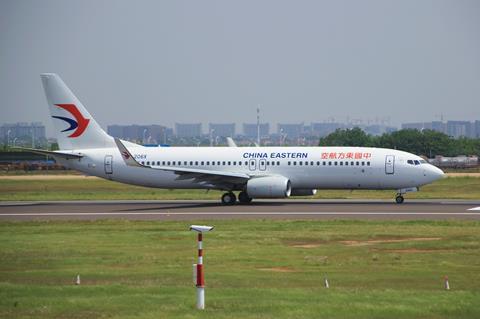 China Eastern, which will operate more than 2,900 daily flights, says it will add about 20 new routes during the Lunar New Year, mostly as a response to travel demand. The carrier adds that it is seeing strong forward bookings on a number of domestic routes, including Beijing Daxing-Sanya, as well as Shanghai Pudong-Kunming.
To this end, the airline will "rationally allocate…resources" in its ramp-up, identifying several areas of network opportunities: flights to Hainan island in the south, as well as flights within Yunnan province.
It will also deploy more widebodies, especially its Airbus A330s, on routes with stronger travel demand, such as to Guangzhou, Chengdu and Sanya.
China Eastern also disclosed plans for a "new wave of resumption" of international routes in time for the Lunar New Year travel period. The airline is ramping up flights from Shanghai to Melbourne and is in the process of ramping up flights to Budapest, Auckland and Sydney throughout January.
Acknowledging that the resumption of international flying "requires a preparation process", China Eastern says it is "intensively" working to restore international capacity, and is planning to resume flying routes such as Shanghai Pudong-Phuket, Kunming-Ho Chi Minh City, as well as Qingdao-Dubai.
The airline's latest update comes days after China dropped most of its restrictions from its 'zero-Covid' policy, a move which fuelled an explosion of local infections across the country. Airlines have so far been lukewarm in responding to China's border reopening, with many operators slowly adding back capacity.