French logistics firm CMA CGM is to take up to a 9% stake in Air France-KLM as part of new long-term partnership under which they will work together operating their respective air cargo capacity.
Under a strategic partnership initially running for 10 years, Air France-KLM and CMA CGM say the will "join and exclusively operate" the full-freighter aircraft capacity of the respective airlines.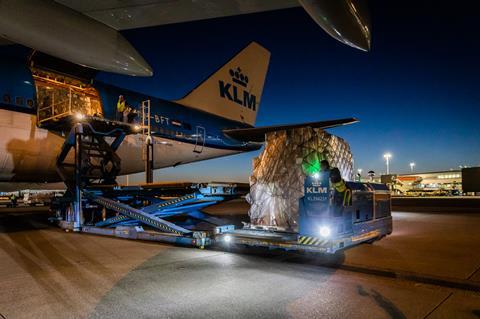 CMA CGM launched its own freight operations, under new operator CMA CGM Air Cargo, last year using Airbus A330-200Fs, while Air France-KLM operates Boeing 777 and 747 freighters.
That partnership will initially cover the six freighters Air France-KLM and four freighters CMA-CGM operate today, but will also include a dozen more cargo aircraft the two have on order. Both recently placed orders for four of the new Airbus A350 freighter, while CMA also signed for two Boeing 777 freighters last year. The partners note that two of the CMA aircraft on order may be operated by Air France-KLM in future.
The partnership also covers belly space on 160 Air France-KLM long-haul aircraft.
As part of its partnership CMA CGM says it will "reinforce its commitment in the air freight industry" by becoming a new reference shareholder in Air France-KLM. It intends to take up to 9% of Air France-KLM's share capital.
"This investment could be made as part of the contemplated capital increase of Air France-KLM, as announced on 17 February," the partners say in a joint statement.
CMA CGM Group chairman Rodolphe Saade says: "This partnership is fully in line with CMA CGM's strategy and its ambition to become a leader in integrated logistics, for the benefit of its customers. Through our stake in the company, Air France-KLM will be able to count on us to support its future development.
"It allows us to significantly accelerate the development of our air division, CMA CGM Air Cargo, which was created just over a year ago, and to position our two companies among the world's leading players in air freight."
Air France-KLM chief executive Ben Smith says: "This strategic partnership leverages the complementary skills, expertise and activities of Air France-KLM and CMA CGM. It is a landmark step which will significantly strengthen and expand the group's position in the air cargo industry.
"I am also extremely pleased that this commercial partnership with CMA CGM has resulted in their decision to invest directly in the Air France-KLM Group, demonstrating a strong testimony of their belief in the future success of our group."