Shipping transport and logistics group CMA CGM has signed a memorandum of understanding to take a 30% stake in Groupe Dubreuil Aero, shareholder of carriers Air Caraibes and French Bee.
The move is aimed at further developing activity in the air freight market, building on co-operation struck during the coronavirus crisis, while providing fresh equity for the French airline operator.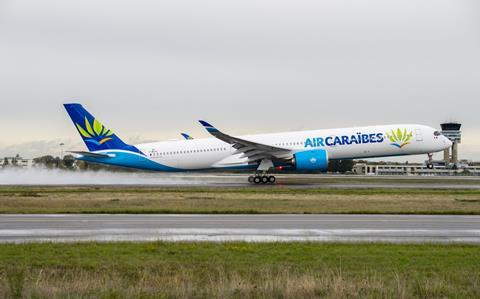 CMA CGM chief executive Rodolphe Saade says: "The acquisition of this stake will enable the CMA CGM Group to strengthen its position in airfreight. We will bring to Groupe Dubreuil Aero all our expertise in the transport of goods in ultra-marine territories."
Under the deal CMA CGM will take its investment via a subscription to a capital increase for €50 million ($58 million) and the acquisition of shares. The deal remains subject to French competition approval.
Groupe Dubreuil Aero chairman Jean-Paul Dubreuil says the deal "gives us the opportunity not only to strengthen the group's equity capital with the support of a very fine French family company, but also to look forward more confidently to the turbulent period that the air transport sector is going through, by preparing for the rebound and future growth of the division".
CMA CGM says it provides logistics expertise to contribute to the development of Groupe Dubreuil Aero cargo activity, notably through the latter's Hi Line Cargo, a subsidiary tasked with commercial distribution of freight on Air Caraibes and French Bee aircraft.
The carriers operate a combined fleet of 17 aircraft, including six Airbus A330 and eight A350 widebodies. They handled 2.15 million passengers in 2019, generating revenues of €700 million – roughly a third of Groupe Dubreuil revenues.
Since the reopening of Paris Orly in late June, Air Caraibes and French Bee have refocused their routes on overseas territories.
"These major routes for both airlines benefit from important VFR traffic with French overseas markets, cushioned from geopolitical or health constraints," CMA CGM says. "The months of July and August also allowed both airlines to consolidate their respective market shares in the French overseas territories."
It marks a further sign of increased activity in the air freight market since the pandemic, as demand has far outstripped capacity – in part because of increased transport of medical and personal protection supplies to counter the pandemic, as well as reduced belly cargo capacity resulting from the collapse of international passenger services.