Condor has disclosed that its creditors have approved a plan for it to leave 'protective shield' proceedings at the end of November as a "healthy company".
The airline – formerly a subsidiary of the now-defunct Thomas Cook – had intended to exit the protective shield as part of a plan under which it would be acquired by PGL, the parent company of Polish flag carrier LOT. But PGL subsequently pulled out of the project amid the coronavirus crisis.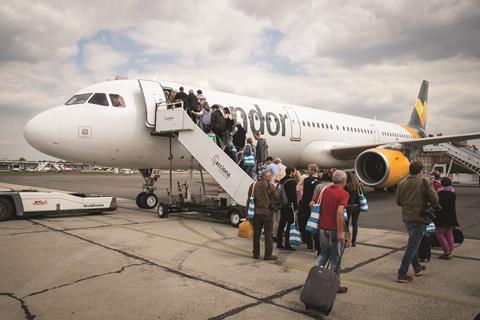 In April, Condor secured a €550 million ($650 million) loan from the German government to help the carrier through the pandemic and to refinance a €380 million bridging loan that had been provided to the airline after Thomas Cook's collapse in 2019.
A second protective-shield plan was submitted at the end August, allowing for measures to "prepare for a future without Thomas Cook".
Condor chief executive Ralf Teckentrup describes the scheduled emergence from the plan on 1 December as "a new start for Condor as a healthy company".
Expressing gratitude to "all creditors for their support and trust", Teckentrup states that customers and partners can "continue to rely on [Condor] in future" as a result of the approval, delivered during a meeting on 22 October.
The airline notes that appeals against the protective-shield exit plan "cannot be lodged this time".
On 2 October, Condor said that while the protective shield enabled it "to gain legal independence after [Thomas Cook's] compulsory liquidation", it was important to complete that process and restructuring efforts in order to obtain traffic right to the USA – "one of Condor's most important markets".
The airline said then that it had filed a petition under US Chapter 15 to make "provisions of the German restructuring proceedings and their conclusion binding" in the country.
As part of the restructuring, Condor says it concluded "viable collective agreements with all the unions months ago, which allow flexibility and efficiency while at the same time responsibly securing the jobs of its approximately 4,200 employees until at least December 2021".
In July, the airline disclosed agreements with pilot union Vereinigung Cockpit, flight attendant body UFO and service-sector union Verdi, which included provisions to extend short-time working until at least March 2021 – the maximum duration under then-current regulations.
Other cost-cutting measures included the move to a more cost-effective corporate headquarters.
Cirium fleets data shows that Condor has 22 Airbus A320-family jets, 11 Boeing 757-300s and three 767-300ERs. A further two A320s, two 757-300s and 13 767-300ERs are listed as being in storage.