Panama-based Copa Holdings, the parent of Copa Airlines, reported higher second-quarter profit and revenue amid a difficult operating environment.
The airline said on 3 August that the results for the quarter that ended on 30 June "reflect the impact from the significant increase in jet fuel prices on our operating costs, which was partially offset by higher passenger yields and lower unit costs excluding fuel".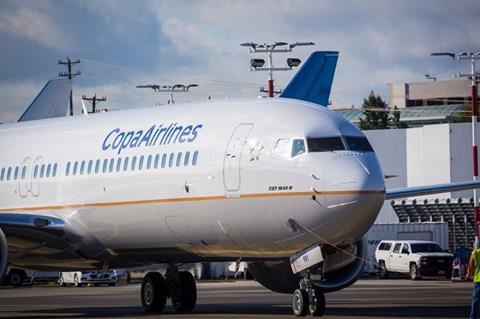 Adjusted net profit rose to $13.2 million from a loss of $16.2 million in the same quarter in 2021, and a $51 million profit in the same quarter in pre-pandemic 2019.
Including special items of $111 million, which include "an unrealized mark-to-market gain related to the company's convertible notes and an unrealized mark-to-market loss related to changes in the value of financial investments", Copa says its Q2 net profit was $124 million.
Revenue rose 7.5% to $693 million during the three-month period, up from $304 million in 2021, and also higher than the $645 million it notched during the second quarter in 2019.
Expenses during the three-month period in 2022 also rose by almost 16% to $651 million.
The airline operated almost 97% of its Q2 2019 capacity, as measured in available seat miles (ASMs) during the period. That's almost 10 percentage points higher than during the first quarter of 2022, compared to the first quarter of 2019. The airline has said it intends to restore its entire network in 2022 as travel across the region normalises following a more-than two-year Covid-19-driven disruption.
Copa took delivery of one Boeing 737 Max 9 aircraft during the second quarter, and at the end of June the airline's fleet comprised of 94 aircraft: 68 737-800s, 17 737 Max 9s, and nine 737-700s.
Copa Airlines will hold an analyst call on 4 August to give more details on its second-quarter earnings.