Copa Holdings, parent of Panama City-based Copa Airlines, posted a profit for the fourth quarter of 2021 but says the Omicron variant of Covid-19 will negatively affect first-quarter earnings.
The company says on 10 February that it earned a profit of $114.4 million in the final three months of 2021, compared to a $2.7 million in the same quarter in 2019. For the full year, the carrier's profit was $39.9 million, compared to $247 million in 2019.
Total revenue for the quarter fell to $575 million, down from $681.9 million in 2019. In the full year 2021, Copa reported $1.5 billion in revenue, compared to $2.7 billion in 2019.
"In the fourth quarter we delivered our strongest quarterly financial result since the beginning of the pandemic," says chief executive Pedro Heilbron.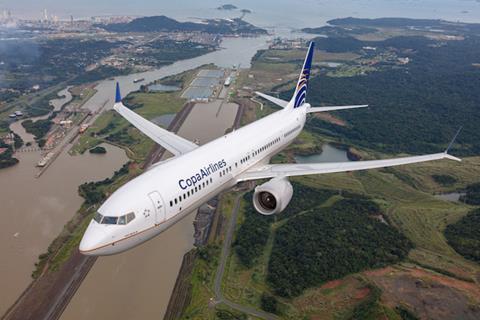 But like its peers across the hemisphere, Copa has faced the challenge of navigating the ups and downs of recovery.
"Despite the company's positive financial results during the fourth quarter, the first quarter of 2022 has been challenging given the recent surge in Covid-19 cases in the Americas, mainly driven by the Omicron variant," Heilbron adds. "As has been observed in other regions of the world, the company currently believes that the impact of Omicron will be temporary and that the recovery of international air travel demand should resume later in the first quarter.".
Copa reduced capacity 4% in January and February, cancelling 1,000 flights, and expects load factors will be less than in the previous quarter. The airline expects revenue of about $550 million in the first quarter, or about 82% of revenue in the first quarter of pre-pandemic 2019.
"What's encouraging is that we are seeing appetite for travel throughout the region," Heilbron says. "We do not see that people are hesitant about travelling abroad. There is still some pent-up demand… The urge to get out do things and go somewhere. In that sense we are very, very optimistic about the rest of the year. We are seeing people are willing and want to travel."
Copa ended the year with 91 aircraft: 68 Boeing 737-800s, nine 737-700s and 14 737 Max 9s. Prior to the pandemic, the carrier had 102 aircraft. It expects to receive eight new 737 Max in 2022.
Copa has also converted one 737-800 into a freighter, and has the option to convert a second aircraft.
"We made that decision when we had our aircraft tin the desert and not flying, and cargo was booming. In hindsight, it was the right decision," Heilbron says. "We already charter freighter aircraft that fly regionally, so many of the hours are replacements by our own freighter, which is much more efficient."
"It's not turning us into a big time freighter carrier – it's more of a niche opportunity, but it complements well with the rest of our business," he adds.