Copa Holdings, parent of Panama City-based Copa Airlines, reported a second-quarter loss of $386 million as the coronavirus, coupled with numerous government-imposed measures to stop its spread, decimated the company's business.
The airline says on 5 August that revenue in the quarter fell 98% to just $14.5 million, with the company only able to offer "less than 1% of its normal operating capacity".
Due to travel restrictions across Latin America, implemented in response to the Covid-19 outbreak, Copa was prevented from offering normal operations except for 86 charter, humanitarian and repatriation flights, the company's chief executive Pedro Heilbron says.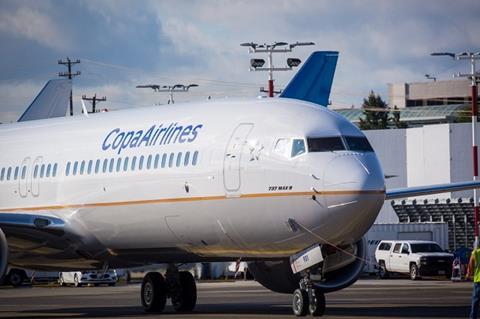 "We have not been able to provide scheduled commercial operations since March 22nd and remain subject to eventual easing of air travel restrictions in the region," Heilbron tells analysts on the airline's quarterly call on 6 August. "It was the most-challenging quarter in our history."
Copa Airlines suspended most of its operations after the government of Panama imposed a ban on international inbound travel to prevent the spread of the highly-contagious virus. For Copa, which has long marketed its home at Panama City's Tocumen International airport as "the hub of the Americas", this has proven devastating.
Those travel restrictions are still in effect today, hindering the airline from restarting normal operations. In addition, many of its destination countries in Latin America continue to limit air transport and inbound passengers.
The restrictions in Panama are set to lift on 22 August, and Copa is planning to restart close-to-normal operations by 4 September.
On a positive note, executives say the carrier already received Panamanian government approval for specific flights in August to and from ten destinations across its network, including Miami, New York, Quito, Sao Paolo, Santiago and Mexico City.
"We have been approved to start flying what we could call some kind of mini-hub," Heilbron says. "We can add destinations as the countries lift restrictions and as demand improves."
But it will, of course, take time for the airline to return to a more-extensive schedule.
"We estimate our monthly operations will initially represent less than 10% of our 2019 capacity and could gradually ramp up to a range of 30-40% by the end of the year," the airline says.
Copa's cash burn averaged about $77 million monthly (around $2.5 million daily) during the second quarter. It expects cash burn will improve to $66 million monthly, or just more than $2 million daily, for the remainder of the year, the company says.
FLEET FLEXIBILITY
As a result of the weakened demand environment and long-term effects of the pandemic, Heilbron says the airline intends to sell its 14 Boeing 737-700s because it does not expect to operate them again. This led to a $ 187 million non-cash, non-recurring impairment charge in the quarter.
In July, it also signed a contract to sell its 14 Embraer 190s, along with spare engines and parts – a plan that had been announced in late 2019.
"Due to current market conditions, the agreed terms for the sale are lower than originally assumed, which generates a book loss of $50 million dollars on the transaction," Copa says.
Copa ended the second quarter with 102 aircraft and Heilbron adds that the fleet will be pared down "to a number that will be in the high seventies".
"Some of those planes will be in long-term storage depending on demand forecast," Heilbron says. "We can bring them out of storage any time."
With the sale of the E190s, Copa will operate a simplified all-737 fleet which, when the 737-700s are sold, will consist of just 737-800s and the still-grounded 737 Max.
Chief financial officer Jose Montero says the airline is pondering "further fleet moves" to adapt to the passenger demand environment.
"There is some flexibility in terms of lease expirations with the remainder of the fleet. We are trying to now make sure that our fleet matches what could be the demand environment in the next couple of years," he says. Traditionally, the airline has owned about two-thirds of its aircraft, and leased one-third, he adds.
The airline has taken delivery of six Max aircraft, with 55 more on order with Boeing, according to Cirium fleets data. Seven of those jets have been built but not delivered, and seven more have yet to be constructed but all parts have been ordered, Heilbron says.
"It is to be expected that those 14 aircraft will be delivered in the 18 months after the Max starts delivering again," he adds.
Boeing has said it plans to begin deliveries of the beleaguered aircraft in the fourth quarter, once the global grounding of the type is lifted. The Max has been banned from operating after it was involved in two fatal accidents in 2018 and 2019, which killed 346 people.
Earlier this week, the Federal Aviation Administration proposed Max design changes to address safety issues, after conducting several certification flights in June and July. Additional steps remain before the FAA is expected to clear the Max to fly.