Cyprus Airways has been acquired by Malta's SJC Group and has named George Mavrocostas as its new chief executive.
Russia's S7 Group had said in April that it was looking to sell its 36.9% stake in the airline. S7 secured the right in 2016 to use the trade name of Cyprus Airways, which ceased operations in 2015, to launch its own Cypriot start-up, Charlie Airlines. It said at the time that it would take about a 40% stake in the airline, the rest being held by local investors.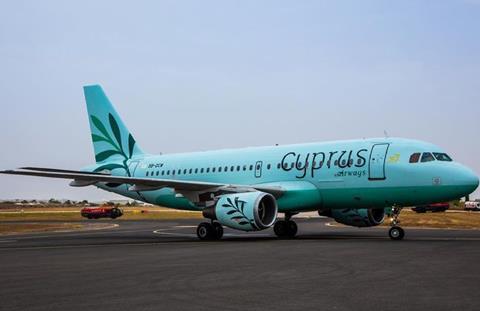 In a 1 July statement, Cyprus Airways says that it has been acquired by SJC Group, which it describes as "a Maltese group with operations across Africa and the Middle-East, incorporating a number of different activities including helicopter commercial flight operations and maintenance from dedicated hangars within Malta International airport".
The Larnaca-based carrier says it has promoted chief operations officer George Mavrocostas to chief executive, and that he will be "at the forefront of a series of planned developments at the national airline brand designed to bring a competitive edge to the airline and to restore its Mediterranean heritage".
Cirium fleets data shows that Cyprus Airways has two Airbus A319 aircraft, one of which is listed as being in storage. Both aircraft are leased from Miramonte but S7 Group is listed as the operator.
Cyprus Airways initiated flights from Larnaca to Malta. It lists its network as covering 11 destinations, including Rome, Moscow and Tel Aviv.
Cyprus Airways board member Marios Demetriades says that Mavrocostas' appointment should help the airline "strengthen channel partnerships, develop strategic alliances and expand our international sales presence".
Mavrocostas describes his new position as an "interim role", adding: "A lot of work is already underway to reshape Cyprus Airways for the new market conditions that we find ourselves adapting to. Our team will continue to focus on the travel recovery and to move forward in what is a very challenging environment."