Delta Air Lines reports a fourth-quarter net loss of $755 million as the carrier endured what the it calls "the toughest year in Delta's history".
For the full year, the Atlanta-based airline lost $12.4 billion as the coronavirus pandemic devastated the airline industry.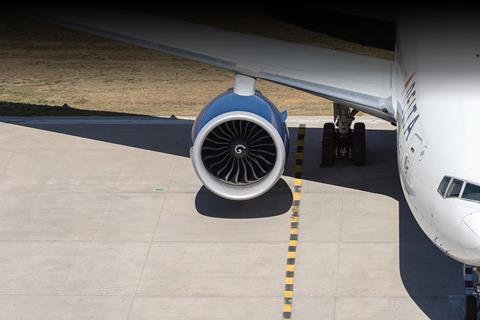 Kicking off the aviation sector's fourth-quarter earnings season, Delta reports on 14 January that its operating revenue declined to $4 billion in the final three months of the year, from $11.4 billion in the same quarter a year ago. Operating revenue for the full year 2020 was $17.1 billion, little more than one-third the $47 billion posted in 2019.
"Our December quarter results capped the toughest year in Delta's history," says chief executive Ed Bastian. "While our challenges continue in 2021, I am optimistic this will be a year of recovery and a turning point that results in an even stronger Delta returning to revenue growth, profitability and free cash generation."
The airline ended the quarter with $16.7 billion in liquidity, and was able to halve daily cash burn to an average $12 million from $24 million at the end of the third quarter. Bastian adds that the company expects that number to fall to about $10-15 million daily by the end of the first quarter.
'MURKY' FUTURE
The company expects the first quarter of 2021 to look much like the last quarter of 2020, he says, with the near term-path remaining "murky". The company says, however, it does expect to reach an "inflection point" at the end of the first quarter, and cash-break-even in the second.
Executives say the recent start of vaccination in the US has not yet had a measurable effect on the airline's booking curve, which remains relatively short as customers wait on planning travel until there is more certainty around whether or not they can actually follow through on their trips.
"We have not seen booking curve start to expand but hope to see that as we go through the quarter and vaccines become more prevalent," Bastian says.
Airlines have said that widespread access and acceptance of an effective coronavirus vaccine will be a primary factor that precipitates a long-term, meaningful and sustainable recovery. But the rollout of vaccines in the US has been uneven, and industry observers expect it will be well into the year before airlines see a positive effect.
Corporate travel trends, executives say, show that small- and medium-sized accounts have begun to return, with that segment of the market expected to become stronger in the second and third quarters as workers return to offices. Corporate travel tends to be more lucrative for airlines, as they can sell short-term tickets at higher prices to business travellers.
FLEET RENEWAL
The airline ended the year with 1,130 aircraft, executives said, having retired 227 older aircraft from the fleet during 2020. That included seven Boeing 767-300ERs, which it recently sold to Amazon Air, all 76 of its McDonnell Douglas MD-88 and MD-90 aircraft and 18 Boeing 777s. The airline says it needs to make room in the fleet for the eventual delivery of 223 firm orders of Airbus aircraft.
The carrier says that it simplified its fleet from 13 fleet families to 11 during the year and adds that through 2025, it will reduce further to just nine fleet families, and bring the cumulative retirement number to 400 aircraft.
According to Cirium fleeets data, the airline has 100 A321neos, 20 A350-900s, 52 A220s, 22 A321s and 29 A330-900neos on order from the Toulouse-based airframer.
The airline also said that it reduced its aircraft purchase commitments by $2 billion in 2020 and $5 billion through 2022.
CORONAVIRUS TESTING
With coronavirus case counts continuing to rise in the US, Delta says it is still "working through" a new US government requirement that all inbound passengers present a negative coronavirus test result no older than 72h. That order is set to go into effect from 26 January.
The US Centers for Disease Control and Prevention (CDC) said on 12 January that airlines will be responsible for ensuring passengers have either paper or electronic proof of negative results prior to boarding aircraft bound for the USA.
Little is as yet known about the details of the order, if there will be any exceptions and which tests will be accepted. The airline is expecting the rollout to be somewhat rocky.
"We will need to consider some waivers for unusual circumstances," says Bastian. Some of these might include a situation where testing is not available, or short trips of less than 48 hours. "It's absolutely the right thing to do for the long term, but it will create some short-term hiccups."
The aviation industry has for several months been lobbying for widespread coronavirus testing with the hope that doing so would increase passenger confidence and motivate customers to return to air travel. But ongoing travel restrictions, including strict quarantine measures in some jurisdictions, are still hindering broad-based recovery.
"We would like to see the travel restrictions lifted once the testing protocols are in place," Bastian says, adding that he hopes a uniform policy will give regulatory authorities an opportunity to consider lifting the bans.
Canada imposed a similar testing requirement from 7 January, and in the first week Canadian airlines reportedly turned away hundreds of travellers for not having correct documentation.
WASHINGTON FLIGHTS
In a separate statement, Delta chief executive Bastian said earlier in the day that the airline will not permit passengers flying to the Washington, DC area to bring weapons in their checked bags. The ban begins on 16 January and will last for 10 days.
The move responds to last week's violence in the city, when pro-Trump fanatics stormed the US Capitol building in an attempt to prevent the certification of Joe Biden as the next US president. They left destruction and mayhem in their wake, and five people died. Biden was confirmed as the winner of the 2020 election hours later.
Numerous law enforcement agencies have said that radicalised protesters plan on returning to the US capital this weekend and into next week to attempt to disrupt the inauguration, which is planned for 20 January.
American Airlines also says on 14 January that it will take special measures to ensure peace on flights to and from the Washington, DC area, including refraining from serving alcohol on flights.
The FAA on 13 January warned potential travellers it will not tolerate disruptions or threats to the physical safety of crew members or other passengers. Administrator Steve Dickson signed an order that would slap hefty fines and jail time - without a previous warning – on anyone who creates a potential safety hazard aboard US aircraft in the coming weeks.
Bastian adds that so far "north of 800" people have been put on the airline's no-fly, list including numerous protesters from last week's incident.