Delta Air Lines has reached a tentative deal with its pilot union to avoid furloughs at the Atlanta-based carrier until 2022.
The airline's 13,000 cockpit crew, represented by the Air Line Pilots Association, International (ALPA) must now vote on the preliminary agreement that would keep 1,941 of them from losing their jobs after US government aid to the airlines ran out earlier this month.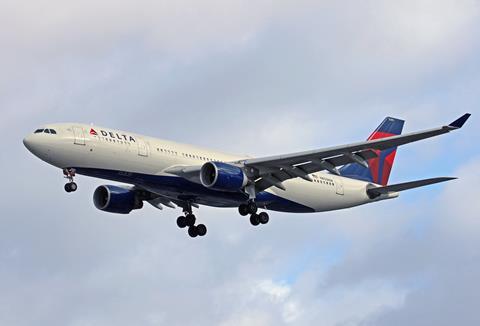 "Today we agreed on a path forward with ALPA's Negotiating Committee that, if approved, can ultimately protect pilots from furlough through January 1, 2022," Delta's chief of operations John Laughter writes in a memo to the airline's flight operations employees on 29 October.
"While this agreement is still subject to approval…we are confident this can help Delta to be better positioned through the long and choppy Covid-19 pandemic recovery," he adds.
Attempts to reach ALPA for comment were unsuccessful.
The airline says that it will push back the date the pilots were to be furloughed, until 28 November, in order to give them an opportunity to ratify the deal.
Unlike most other major US carriers, Delta did not furlough any employees after US government aid to airlines, made available through the so-called CARES Act, expired on 1 October.
The airline was able to avoid staff cuts after about 40,000 employees chose to take either early retirements or voluntary leave programmes.
During the airline's third-quarter results call earlier this month, chief executive Ed Bastian said the carrier had reached agreements with most work groups and was still negotiating with the pilot union to avoid furloughs in that work group as well. Delta reported a $5.4 billion loss for the quarter that ended on 30 September.
Laughter now says the agreement "contains several quality of life improvements while allowing Delta to generate much needed savings", without going into further detail.
Late last month, rival United Airlines' pilots agreed to belt-tightening measures, including reduced flight hours, that avoided 2,850 furloughs that had been scheduled to begin on 1 October.
The Chicago-based carrier said the planned pilot furloughs for 2020 and 2021, which would have amounted to 3,900 jobs, or about one third of the airline's total pilots, were now off the table until June 2021
That agreement reduces the number of hours individual pilots fly every month, effectively spreading fewer hours across the pilot population. More-junior pilots give up more hours than those higher on the seniority list and more-senior pilots would be eligible for another early-exit programme.