Pilots at Delta Air Lines have agreed to cost-cutting measures that will prevent involuntary furloughs of cockpit crew through the end of 2021.
The Atlanta-based carrier says on 25 November that pilots voted to approve a tentative agreement reached last month that would ensure 1,713 pilots remain employed following expiration earlier this year of US government aid.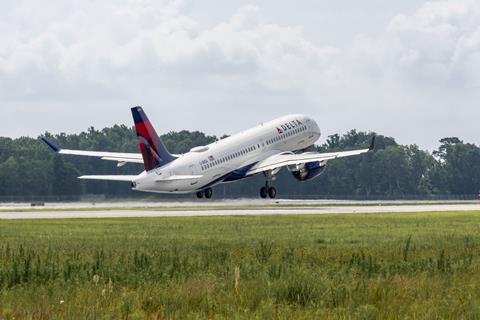 "With the member ratification of this agreement, we will be well positioned to bring all our pilots back into active flying status as customer demand returns," says John Laughter, Delta chief of operations.
He adds that recovery will not be smooth.
"Looking ahead, we must remember the challenges will continue. Our recovery will be uneven — as evident by the recent increase in Covid rates, which are affecting our bookings for the holiday season."
The agreement ensures all pilots will remain employed until at least 1 January 2022.
The union, Air Line Pilots Association, International (ALPA), says it is pleased that the jobs can be rescued and that it was able to "secure contractual gains for all pilots on the seniority list".
"This agreement will help Delta navigate the Covid crisis and emerge a stronger airline in the end," adds Chris Riggins, Delta's ALPA communications committee chairman. "Pilots, as long-term stakeholders in our company, have stepped up to the plate once again to help Delta weather this crisis."
Unlike most other major US carriers, Delta did not furlough any employees after US government aid to airlines, made available through the so-called CARES Act, expired on 1 October.
The airline was able to avoid staff cuts after about 40,000 employees chose to take either early retirement or other voluntary leave options.
During the airline's third-quarter results call in early October, chief executive Ed Bastian said the carrier had reached agreements with most work groups and was still negotiating with the pilots' union. Delta reported a $5.4 billion loss for the quarter that ended on 30 September.