Pilots at Delta Air Lines are to vote on a new employment contract after union leaders backed a tentative agreement.
Delta's pilots are scheduled to vote starting 31 January on whether to ratify the agreement, the Air Line Pilots Association, International (ALPA) said on 18 January.
Previous media reports have said the deal would provide Delta's pilots with raises exceeding 30% over several years.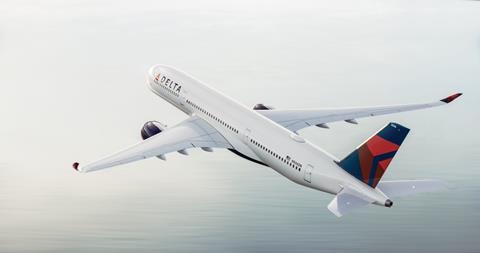 "We achieved improvements contract-wide, including industry-leading pay rates," says Darren Hartmann, chair of ALPA's Delta council.
Several major US airlines and their pilots are now engaged in new-contract negotiations, talks that have come amid a shortage of pilots and broader wage inflation.
ALPA's Delta council says it will from 23 January begin hosting a series of events at which it will present the terms of the proposed contract to members.
The deal will be open to a vote by pilots between 31 January and 1 March, and if approved would be effective retroactively from the start of the year.
The union's contract with Delta became amendable at the end of 2019. The parties had negotiated under counsel of the US National Mediation Board. The airline and union reached an "agreement in principle" in early December last year. Pilots at the airline had at the end of October voted in favour of strike action if necessary in support of securing new terms
ALPA says it has been keen amid negotiations to ensure Delta pilots have "an equitable share of international widebody flying".. ALPA has previously expressed concern that pilots could lose access to such opportunities due to Delta forming a joint business with Chile's LATAM Airlines Group.
Late last year, United Airlines' chief executive Scott Kirby reportedly said Delta's pilot deal would likely set a benchmark for other carriers' contracts.